The Legendary 12 Principles of Animation
A wonderful look into Disney's Twelve Principles of Animation, and how to apply these techniques to your motion design work.
When it comes to deep dives into what makes animation great, I am a sucker for books, video essays, and breakdowns. I've devoured countless hours on the history of animation, as well as VFX and filmmaking in general.
While I may enjoy a read through Ed Catmull's Creativity, Inc. or deep studies of The VES Handbook of Visual Effects (both on the shelf next to me), I just absolutely love watching a well paced and extensive video essay. One of the best at the video essay genre is the great kaptainkristian.
Disney's 12 Principles of Animation
Though often credited to Walt Disney himself, the 12 principles are actually the brain child of Frank Thomas and Ollie Johnston. They were two of Disney's Nine Old Men.
In the latest video from kaptainkristian, Disney – The Magic of Animation, you'll be guided through Frank and Ollie's 12 principles of animation.
For a much deeper dive into Disney Animation, consider picking up a copy of Disney Animation: The Illusion of Life by Ollie Johnston and Frank Thomas.
If you are looking to reference the principles themselves, here's a running list.
The 12 Principles of Animation
Squash and Stretch
Anticipation
Staging
Straight Ahead Action and Pose to Pose
Follow Through and Overlapping
Slow In and Slow Out (Ease In and Ease Out)
Arc
Secondary Action
Timing
Exaggeration
Solid Drawing
Appeal
The 12 Principles of Animation Wikipedia page is also a great resource for more information and examples.
Using these Principles in Motion Design
Now how do this animation principles apply to the work of the motion designer? Well, that's actually a question Jorge Rolando Canedo Estrada (Jr.canest) had himself. It was the foundation of what became his Motion Design training course.
Jr.canest has built an incredible course, which he simplified down to the 10 principles of motion design. You can learn how to apply this techniques in this journey through motion design from concept to completion, using tools like Photoshop, After Effects, Illustrator, and InDesign.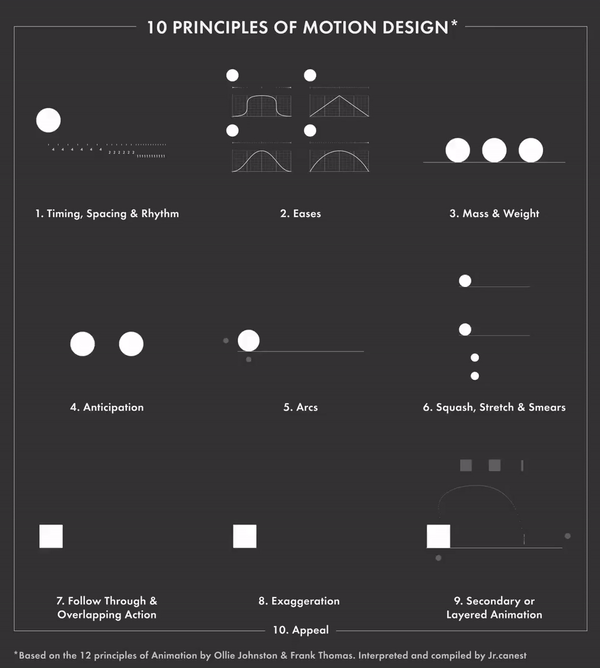 See his 10 principles in action in his various projects for Google, Adobe, and WIRED. You can learn more about these principles in Jr.canest's course Motion Design 101 available in the Greyscalegorilla store.
Want more articles like this? Check out these pieces