Save the Date: 40% Off During the Greyscalegorilla One Day Sale
The Greyscalegorilla One Day Sale is your chance to take 40% off our Cinema 4D tools and training. Get all the new plugins and assets.*
Get ready for our biggest sale ever. More tools, more training, more savings. The 2018 One Day Sale starts now!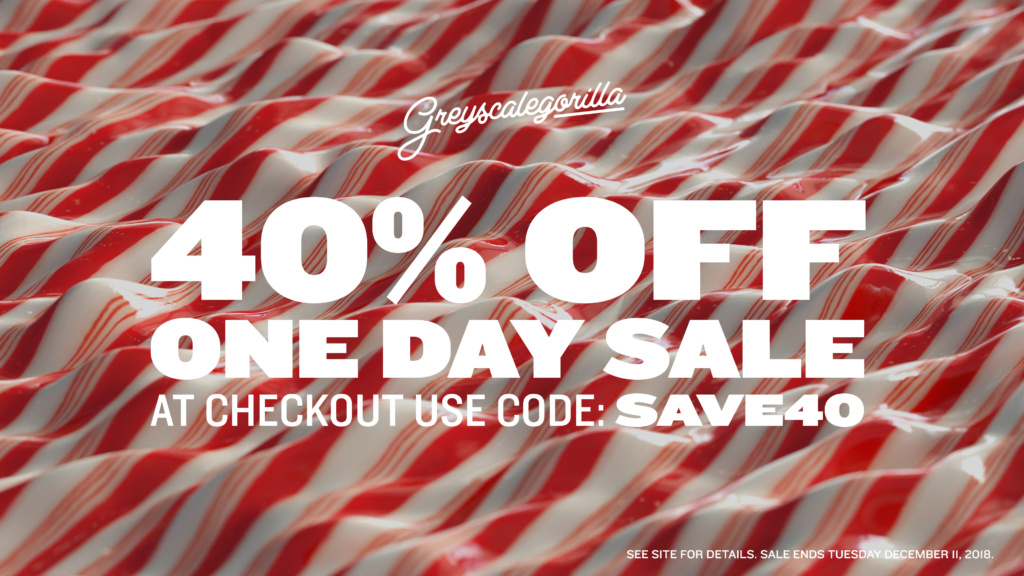 Add your tools, training, and/or suites to your cart. During checkout, add discount code SAVE40 to take 40% off your purchase.
---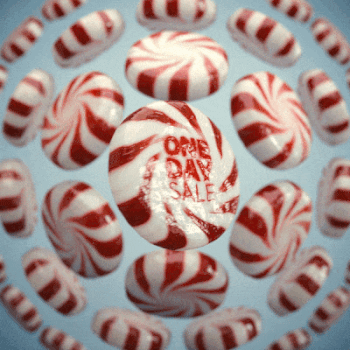 When is the One Day Sale?
Monday December 10th 8AM EST through Tuesday December 11th 8AM EST.
Mark your calendar now, set a reminder, set an alarm, put a sticky note on your monitor, tell your friends to remind you. Whatever it takes, don't miss our biggest sale!
---
Are there new Greyscalegorilla products I need?
2018 was the biggest year ever for new releases. Believe it or not, we released 11 new products and several big updates just this year.
Here are the new tools and training you can save on.
New Tools
Light Kit Pro 3 (Plugin, Studios, Suite)
The fastest selling GSG plugin ever, Light Kit Pro 3 might be the must-have tool for 2018. See why 3D World Magazine gave it a perfect 5-star review.
LKP3 is available new or as an upgrade. You can purchase the plugin by itself, add on 80 additional studios with Product Studios or Pop Studios, or save and get everything in the Light Kit Pro 3 Suite.
---
Everyday Material Collection
The newest product available was an immediate hit with Redshift, Octane, and Arnold users, and we are even seeing amazing results from artist using the texture maps in Houdini and other 3D programs.
The Everyday Material Collection features over 350 drag-and-drop materials for Cinema 4D.
---
GorillaCam
Our first release of 2018, GorillaCam continues to be a top-selling new plugin. These easy-to-add camera shakes and overshoots have been used on countless ArchViz walkthroughs and commercial projects. See how Ash Thorp used them in this futuristic sci-fi Nike ad.
---
HDRI Ultimate Skies
The most popular HDRI pack that doesn't have "Pro Studios" in the name. Ultimate Skies features 85 UltraHDRI skies in OpenEXR format. That means you can use these in C4D with HDRI Link or HDRI Studio Rig, or you can also use them in Maya, 3ds Max, Houdini, and more!
Available in 12K and 4K, these HDRI feature crisp sun shadows, no lens flares or blown out sun, and no obstructions (no buildings, light posts, trees, or random elements).
---
New Training
Several new training courses and a big update were released in 2018.
Greyscalegorilla Guide to Redshift
Ready to see why artists and studios are making the switch to Redshift. The Greyscalegorilla Guide to Redshift will show you all of the features and how to best use them to quickly render your C4D projects.
Led by MANVSMACHINE's Trevor Kerr, this training series will get you up to speed with the fastest third-party render engine. Check out our interview with Trevor here, or preview a lesson with this Blade Runner fog tutorial.
---
Learn Squared's Motion Design 101
With Motion Design 101, you'll learn to concept, design, and animate within the Adobe Creative Cloud. Learn from industry giant Jr.Canest in this top-notch course from Learn Squared.
Check out Jr.Canest's artist spotlight here to see some of his recent projects for clients like Adobe and WIRED.
---
Greyscalegorilla Guide to Cinema 4D R20
Did you upgrade to Cinema 4D and need to learn all about the new features? The Greyscalegorilla Guide to Cinema 4D R20 features 12 hours of training on the newest tools and several project lessons from all your favorite Greyscalegorilla hosts.
Interested in the key new R20 features? Check out this C4D R20 preview lesson.
---
Greyscalegorilla Guide to X-Particles (XP4)
First up was the major appendix added to our industry-leading Greyscalegorilla Guide to X-Particles training. An additional 12 hours of training focused specifically on XP4. That brings the entire guide up to 20 hours of the most in-depth X-Particles training available.
---
AskGSG Season 4
Grab the latest season of AskGSG, or the AskGSG Season Pass, and access all of the newest live q&a shows with Chris Schmidt.
---
What products will be on sale?
All products built and produced by Greyscalegorilla will be 40% off. That includes our tools, training, and suites. Save on our plugins, in-depth training series, materials, 3D models, HDRIs, and more!
Greyscalegorilla Tools:
Greyscalegorilla Training:
Greyscalegorilla Bundles and Suites:
X-Particles (by Insydium LTD) is not part of the sale.
---
How do I save 40%?
Add your tools, training, and/or suites to your cart. During checkout, add discount code SAVE40 to take 40% off your purchase.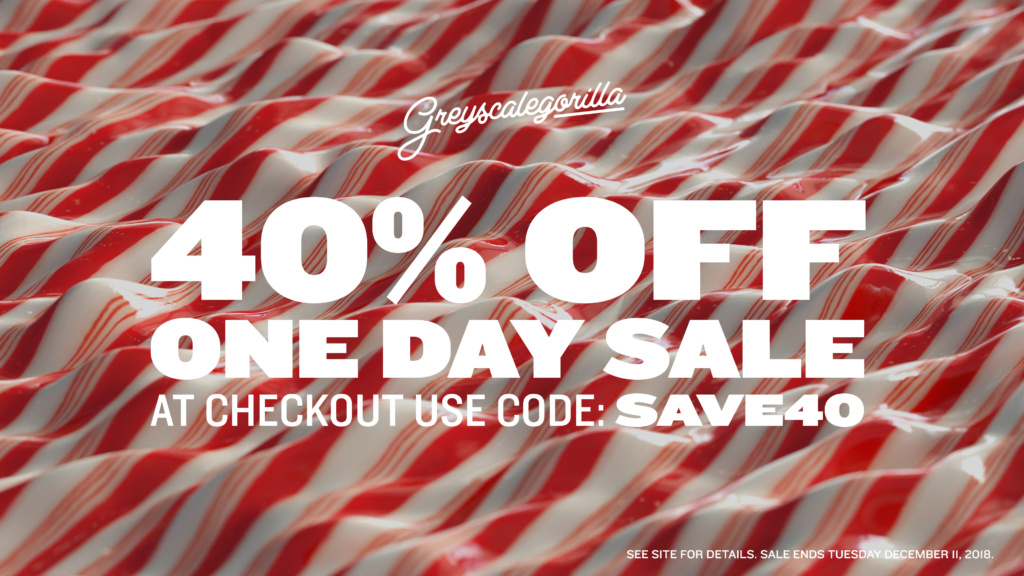 ---
What are the best deals?
Suites! Save extra by purchasing a Greyscalegorilla suite. Not only do you already save on the price of the individual products, you'll save an additional 30% off the price of the suite.
Greyscalegorilla Complete Suite
The GSG Complete Suite includes all the Cinema 4D tools built by Greyscalegorilla. You'll get all of our animation, rendering, lighting and color grading tools.
Browse all Greyscalegorilla Suites.
---
Will X-Particles be on sale?
No.
*X-Particles (a product of Insydium LTD) is not part of this sale.