What to Know About Autodesk's Arnold GPU Render Engine
Autodesk is completely rebuilding Arnold from the ground up on the GPU. Here's everything you need to know.

There are a lot of questions floating around about the just announced Arnold GPU render engine. Lot's of Arnold users want to know what features are ready to use, and artists currently using Redshift, Octane, and other render engines want to know about speed.
Let's answer some frequently asked questions and talk about the changes coming to Arnold.
What is Arnold and Arnold GPU?
Arnold is an unbiased, physically-based, Monte Carlo ray tracing renderer built for feature-length animation and VFX.
It was co-developed by Solid Angle and Sony Pictures Imageworks, where it was used on films like Cloudy with a Chance of Meatballs, Gravity, The Avengers, and Pacific Rim. (You can see how Greyscalegorilla tools were used in the Pacific Rim main-on-end titles and in Tony Stark's Avengers HUD.)
In 2016, Solid Angle was purchased by Autodesk and his since become the company's standard render engine. Arnold is currently a CPU renderer available on Windows, Linux, and macOS machines. Autodesk just announced the public beta release of Arnold GPU in March 2019. The GPU version will only work with NVIDIA cards.
What 3D platforms does Arnold GPU support?
Same as the current CPU version of Arnold. It supports Autodesk programs Maya and 3ds Max, and is also available for Cinema 4D, Houdini, and Katana.

Are Arnold CPU and GPU different render engines?
Yes and No. Technically it's the same engine, just different implementations. The ultimate goal is build a 1:1 render engine that can render either on CPU or GPU. As the GPU version is still in beta mode, many features have not yet been ported over.
Ideally once fully released, you will be able to seamlessly switch between CPU and GPU based on the type of machine you are working on, and what type of render farm you will be using.
Here is a comparison of Arnold CPU vs GPU we made. Can you tell the difference? Click to enlarge.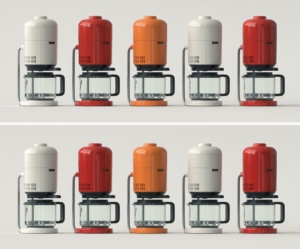 CPU is on top, GPU is on bottom.
Is it easy to switch from Arnold CPU to GPU?
Yes, it's literally a dropdown selection in the render settings.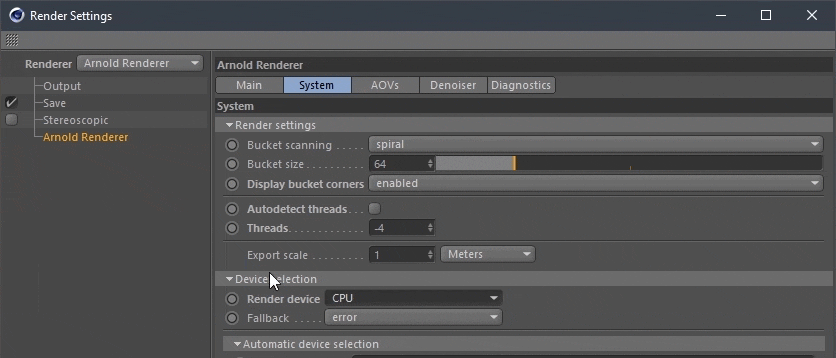 Though you need to note that in the beta, not all features are available. You'll see many grayed out menus in the meantime.
What features are currently available in Arnold GPU?
From Autodesk's release, "Arnold GPU currently supports features such as arbitrary shading networks, SSS, hair, atmospherics, instancing, and procedurals."
Chad Ashley has served as a beta tester for the past year, and he and fellow beta tester Shawn Astrom share some insight in this video. Here is what you can expect to see in this beta release, and some notes on where the development is heading.
Is Arnold GPU faster than Redshift or Octane?
It's very difficult to compare. In certain cases yes, and in other cases no. It really depends on the type of work you do.
We recommend downloading a trial of Arnold GPU to see if it works faster in your workflow. Share you results in the comments below!

Will Arnold support multiple GPUs?
Yes, and you will also have the option to select how many GPUs you want to use.
Does Arnold GPU work with any NVIDIA cards?

Here is the entire list of compatible cards.
NVIDIA GeForce
GeForce RTX 2080 Ti, GeForce RTX 2080, GeForce GTX 1080 Ti, GeForce GTX 1080, GeForce GTX 1070 Ti, GeForce GTX 1070, GeForce GTX 1060, GeForce GTX 1050 Ti, GeForce GTX 1050, GeForce GT 1030, GeForce GTX 980 Ti, GeForce GTX 980, GeForce GTX 970, GeForce GTX 960, GeForce GTX 950
NVIDIA Mobile GeForce
GeForce GTX 1080, GeForce GTX 1070, GeForce GTX 1060, GeForce GTX 1050 Ti, GeForce GTX 1050, GeForce GTX 980, GeForce GTX 980M, GeForce GTX 970M, GeForce GTX 965M, GeForce GTX 960M, GeForce GTX 950M, GeForce 945M, GeForce 940MX, GeForce 930MX, GeForce 920MX, GeForce 940M, GeForce 930M, GeForce 920M, GeForce 910M, GeForce GTX 880M, GeForce GTX 870M, GeForce GTX 860M, GeForce GTX 850M, GeForce 845M, GeForce 840M, GeForce 830M, GeForce 825M, GeForce 820M, GeForce 810M
NVIDIA Titan
NVIDIA TITAN RTX, NVIDIA TITAN V, NVIDIA TITAN Xp, NVIDIA TITAN X (Pascal), GeForce GTX TITAN X, GeForce GTX TITAN
NVIDIA Quadro
Quadro RTX8000, Quadro RTX6000, Quadro GV100, Quadro GP100, Quadro P6000, Quadro P5000, Quadro P4000, Quadro P2000, Quadro P1000, Quadro P620, Quadro P600, Quadro P400, Quadro M6000 24GB, Quadro M6000, Quadro M5000, Quadro M4000, Quadro M2000
Mobile Quadro Quadro P5000, Quadro P4000, Quadro P3000, Quadro M2200, Quadro M1200, Quadro M620, Quadro M520, Quadro M5500, Quadro M5000M, Quadro M4000M, Quadro M3000M, Quadro M2000M, Quadro M1000M, Quadro M600M, Quadro M500M
For better performance, Autodesk recommends using Turing (RTX, GeForce 20xx), Volta (Titan V, Quadro GV100), Pascal (GeForce 10xx, Quadro Pxxx), or Maxwell (GeForce 9xx, Quadro Mxxx) GPUs.
You will also need to be on the following drivers. NVIDIA driver version 418.43 or higher on Linux, NVIDIA driver version 419.17 or higher on Windows.
Will Arnold GPU support External GPU?
It do believe it's on the road map to make it compatible with external GPUs, but it's unknown at this current time.
Will Arnold GPU work on a Mac?
No. Arnold GPU is built for NVIDIA cards, which Apple does not support.
Arnold CPU however is available for Mac users now.
Does it work with AMD?
No. Once again only the NVIDIA cards mentioned above.
When is Arnold GPU available to download?
The final release has yet to be determined, but the public beta is available now.
How much does Arnold cost?
Arnold is offered as a subscription, with monthly options starting at $65 per month, and yearly starting at $615.
Can I try Arnold GPU before I buy?
Yes. Arnold offers a free 30-day trial to new users, which includes both the CPU and GPU versions. Current Arnold users can also download Arnold GPU for free with their existing license.
Interested in what Arnold GPU looks like? It shouldn't be too unfamiliar to existing Arnold users. Here's a quick walkthrough and some first impressions from Chad Ashley.
Do Greyscalegorilla plugins work with Arnold?
Yes. Our existing Arnold compatible tools will work with Arnold GPU, however we will only offer technical customer support for Arnold CPU in the meantime. We will later offer support for Arnold GPU once out of beta and officially released.
Arnold Compatible Tools:
Does Greyscalegorilla have any Arnold tutorials?
You know it! We have several Cinema 4D Arnold (c4dtoa) tutorials available now, plus a walk through of Arnold GPU. Here's a look at one of the latest Arnold tutorials.