Assembling Avengers: Endgame User Interfaces and Holograms with C4D
Territory Studio Creative Director Marti Romances on working with Marvel Studios on Avengers: Endgame graphics and futuristic UI.
Territory Studio has worked with Marvel production designer Charles Wood's team to realize aspects of many Marvel blockbusters, including Guardians of the Galaxy, Captain America: Winter Soldier, Avengers: Age of Ultron and Infinity War. Now with Avengers: Endgame Territory's San Francisco team once again helped bring directors Anthony and Joe Russo's vision to life.
Here Territory Creative Director Marti Romances describes the studio's latest foray into the Marvel Universe, explaining the team's use of Cinema 4D and other software, as well as what it was like to be embedded with the Marvel team in Atlanta, Georgia.
Q: Describe what Territory was asked to do for Avengers: Endgame?
Marti Romances: We were asked to create the on-set screen graphics for all sets. We came on board with Marvel's playback team who really valued our experience of having worked with production designer Charles Wood on several other Marvel films.
We did the screens for the Avengers' Compound as well as Tony Stark's new lab and a few things for his old lab. We also reworked the screens for Peter Quill's new Guardians of the Galaxy ship, which was featured in Avengers: Infinity War. And we created a holographic dance sequence for a Tokyo karaoke bar scene.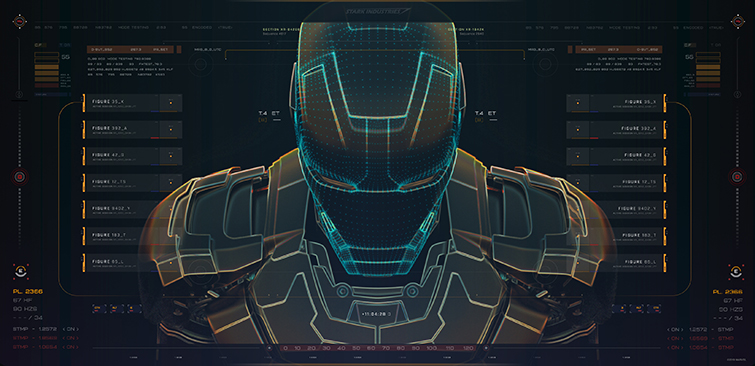 Q: Describe what it's like to work with Charles Wood?
M.R.: Charles is amazing. I could not be more grateful to have the opportunity to work with him. I first met him at Waterloo Station when they were shooting some scenes for Captain America: Winter Soldier. I was 25 years old, and an art director with Territory. Charles had already received some of our work, but I had not had the luxury to interact with him one to one.
The first thing the art director said when he introduced us was that Charles had been inspired by one of the screens I designed showing two rings analyzing Loki's scepter. We did a digital analysis, and Charles ended up turning those two rings, which were just digital animations, into a physical prop for the set.
Charles is so busy, but he is great at identifying what he needs to tell you so you can go ahead with your own creativity. He also goes deep into the overarching elements of the screens and graphics we produce, talking about color and the mix of colors, tone and the use of languages and icons.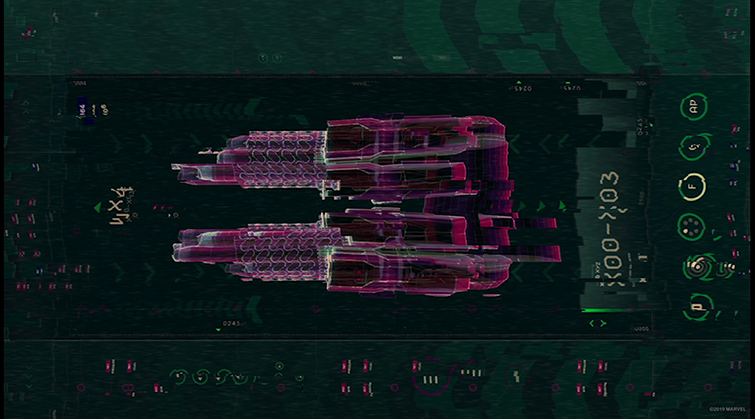 He has always been the one to say that these guys come from a different galaxy, so we don't have to arrange buttons like we normally would. So, when we did the new Guardians of Galaxy spaceship for Infinity War, he kept saying 'Give me more organic and give me more abstract.' So things look very alien to us, and that's exactly what we wanted to do.
Q: How does your process work. And does it help to be embedded with the Marvel team in Atlanta?
M.R.: For us, everything funnels out from Charles and everyone plays a role. We start by defining the visual language in Illustrator and then we get into the interface language. Charles will tell us what he likes and doesn't like so we can refine specific elements. We get some of the assets from people doing the concept art, and we render different passes. That's when we merge both worlds in After Effects, our 3D renders from Cinema 4D and our designs from Illustrator, and then we apply more of a composition layer where we start experimenting with different elements for backgrounds and foregrounds. We usually work in a very modular way so we can change things on the go. These screens are shot within days, so we have to be responsive and effective in our workflow.
It helps to be embedded on set. It's a beautiful way of working together. We were there for a couple of months. Most of the time it was me and a couple of artists working with so many great people working in the art department —concept artists and prop designers using 3D printing for parts of the set. Having all of those influences and reference materials in the same environment, and with easy access to the production designer and art directors, being embedded was the best way for us to work. And it's very nice that we get invited to be part of that family. It hasn't changed much since we started with them. It's just getting bigger and bigger.
Q: What sorts of changes did you make to the Avengers' Compound?
M.R.: Because we created the on-set screen graphics for Avengers: Age of Ultron, we used our own work as a source reference for progressing the compound's identification systems and security. We used Cinema 4D to push the look and feel a bit more high-tech, like adding dynamic animations that suggest an artificial intelligence behind their security system.
We had already created a visual language for them, so we didn't want to deviate too much, just show a slight evolution that reflected the new characters being introduced from other films, like Black Panther.
Q: How did Tony Stark's lab change?
M.R.: We were asked to do screen graphics for his old and new more futuristic lab, depending on the scene. So one day they were asking us to create old laser oscilloscopes showing all sorts of waves and data.
We created the 2D animated graphics first at a lower frame rate, applied the typical, older monochromatic-green-laser style to them, and then we faked all the passes to degrade them to look like technology from the 70s.
That was actually a very similar process to what we did for Blade Runner 2049, so the looks were of old and obsolete tech.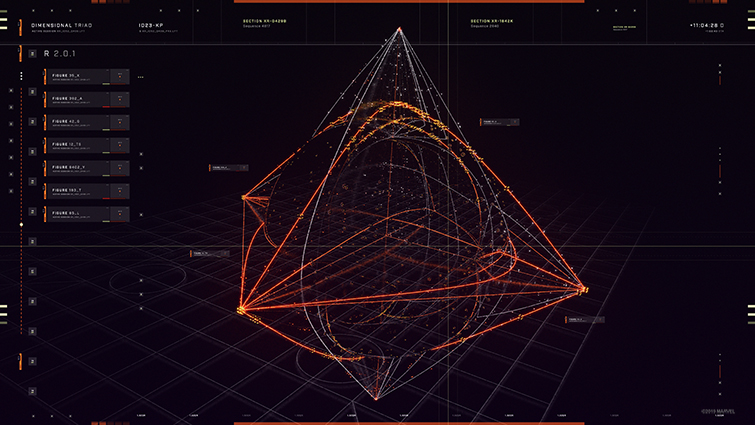 For the new lab, we did almost the opposite so Tony Stark could use the lab's technology to study things like the multiverse, magnetic fields and Penrose diagrams (two-dimensional diagrams showing the causal relationship between different points in spacetime).
We studied how the physics of the Penrose diagrams work and used C4D to explore how space and time can be visually warped and wrapped. Then we created complex 3D moving graphics and added lots of color gradients. The set was very exciting, and the new visualizations triggered further conversations with the production designer and playback team.
Q: Describe your work on the futuristic karaoke bar?
M.R.: The brief for the futuristic karaoke bar was something completely different from what we've done in the past. We needed to imagine this was a futuristic Tokyo when technology had really evolved, and things had gotten very weird.
They wanted us to design and animate a holographic stage with some dancers and bizarre graphics all around. They actually played those in a massive, curved LED screen covered with some stage elements to make it look like a real rig.
And we also produced all sorts of trippy and psychedelic visuals for all the screens around that bar.
Our approach was different this scene involved the creation of a character and there was a lot of animation. Charlie asked us to look at—K-pop and some weird anime characters. We did a series of character designs. Charlie really liked the one we produced with a robotic cat face, so went down that route. It was beautiful because we were pushing our 3D and CGI capabilities and character creation. We did three dancers that were kind of a mix of robots and animals. The characters don't even have a name because they were more atmospheric.
Once we had all the parts approved, we animated the characters and designed a virtual stage for them to dance on top of it. Across the whole set we produced some looping visual animations that created a very luminescent and vibrant look and feel.
Q: Now that future tech is more common in films, how do you see design evolving?
M.R.: We always try to not look at what we've done in the past. We try to reinvent ourselves by starting from scratch with a clear mind and a new vision because each film is different, and that's what we want to achieve. In this case, we look back because we have to. These characters have a history and that's rare.
These are not just films. It is a whole universe, so we evolve as we go along and we ask questions about where are we heading now. Where are these guys going? What do they need to do now? Knowing that the team's vision is the biggest, brightest thing that is happening makes us all push to make the Marvel Universe greater.
It all started with the first Iron Man. We were there going 'Holy crap, look what these guys just created!' Then they started pushing and creating a whole universe. Now we can look back and we can see lots of our graphics around lots of different films. It is so special to work on these kinds of projects. It's truly amazing.
Territory Studio Avengers: Endgame Credit List:
Marti Romances – Creative Director
Lyniel Dao — Producer
Grace Centauro — Coordinator
Brandon Mata, Devin Earthman, Adam Conway and Nicolas Lopardo — Digital Artists
Meleah Maynard is a writer and editor in Minneapolis, Minnesota.
---
Want more interviews like this? Check out these chats with industry pros: