Posted In:Arnold | Greyscalegorilla
standard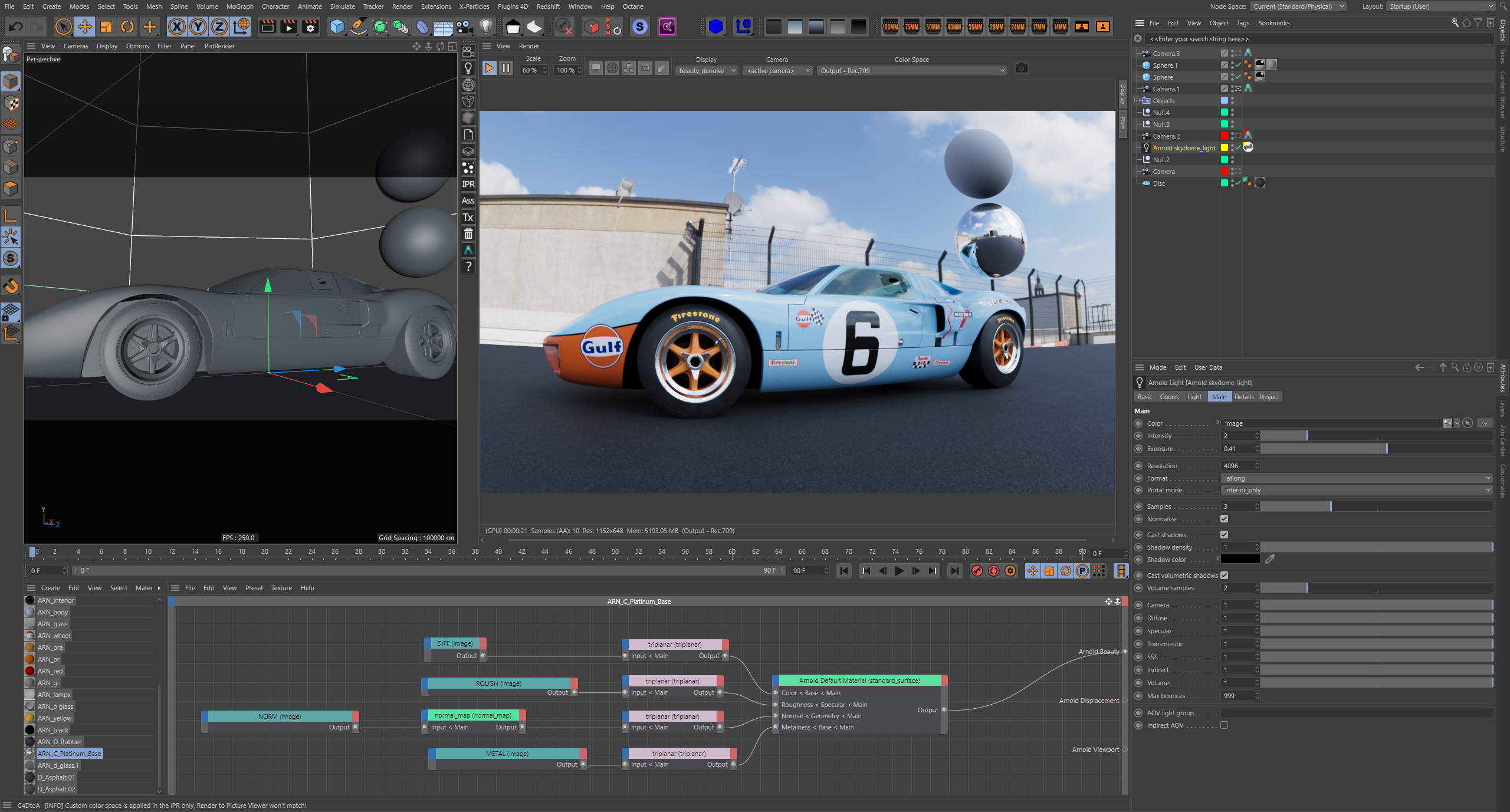 With the latest release, Autodesk's Arnold renderer becomes the most versatile C4D render engine that works on both CPU and GPU.
One of the most asked questions Greyscalegorilla receives is which render engine to use. It's still not a simple answer, but for the first time, we can definitely recommend one based on versatility + features.
Autodesk Arnold is one of the leading Cinema 4D render engines that can be used by both Mac and PC artists, and now that the NVIDIA GPU version is fully released it's incredibly powerful.
Arnold 6 is not the most feature-rich new release, but it doesn't really have to be.
The removal of the word BETA from it's GPU offering could be called premature (and I wouldn't necessarily argue with them), but there is no denying the power of being able to flip from CPU to GPU. The new licensing methods are also a welcome change to the old, overly complicated system that required a degree in IT to get up and running (though still has tons of room for improvement).
Let's dive into the latest release, and really take a look at things.
Overall Benefits to Arnold 6:
Easy to Use
Most versatile renderer for both Mac and PC (CPU + GPU), though GPU is not supported on Mac
Works across all major DCC's including Cinema, Houdini, Maya, and Max
Most feature-rich renderer (including a full Toon System)
Supports more native C4D features than most current renderers (Noises, Background Object, Floor Object, etc)
Extremely stable
Memory Efficient
Affordable Single Seat Licenses
Monthly subscriptions available
No watermark restrictions – You can work on the watermarked version with no feature limitations
Extremely responsive IPR in both CPU/GPU
Supports industry standards like OCIO+ACES, OSL
5 Must-Know Things About Arnold 6
Arnold GPU:

Out of Beta
More Stable
Supporting nearly every feature of CPU (including light filters, LPE's, and nearly all AOVs)
No Mac Support

Lower Pricing Structure
New Arnold license process – Somewhat easier to get up and running, and cheaper options.
A ton of bug fixes. Stability matters in production.
Quality of life updates (node alignment tools, material exports, etc)
Thoughts on Arnold GPU
Arnold GPU was no small feat. Taking a production-proven CPU renderer and pushing it to deliver 1:1 results on the GPU is very difficult. Renderman is currently working on XPU which promises to harness the power of your CPU and GPU simultaneously, but it's proved challenging to bring to market. We believe the future is about leveraging ALL your hardware. Power and flexibility will always win out. Arnold being able to give 1:1 results on both CPU and GPU is incredibly compelling.
If I were starting a small studio right now, I would be using Arnold GPU on my artists' workstations to do look dev/lighting and then switching to CPU mode to throw to an inexpensive cloud render farm solution such as Pixel Plow. I'd outfit every 3D workstation with dual 2080ti's and a Threadripper to give every artist the flexibility to use whichever mode better suits their work. What a time to be alive!
Now I've been on the beta for Arnold GPU since it opened over a year ago. I've watched it slowly go from a buggy, noisy mess into something I actually use on a daily basis.
The first question anyone ever asks me is whether or not it's faster than it's competitor Redshift. My answer is always the same, mostly no. In my testing, Arnold GPU is 10-20% slower than Redshift on most tasks. However, in some cases, it can close that gap very nicely (usually on scenes with tons of GI bounces).
Even with Redshift besting it in terms of sheer speed (as one would expect from a biased GPU renderer), it cannot touch Arnold in terms of features and user experience. Arnold outshines its competitors with production proven features and a Cinema 4D plugin that is easily best in class.
I'm also a bit spoiled as I use Arnold with a 64-core AMD Threadripper. So Arnold CPU for me is certainly no slouch. In fact, only now with Arnold 6 can I say that their GPU offering is giving my beast of a CPU a run for it's money.
Should I switch to Arnold GPU?
Well, there are a few things to consider
Arnold GPU is Windows only, sorry no Mac support at this time
Arnold GPU is Nvidia ONLY and more cards the better. I HIGHLY recommend RTX cards as Arnold GPU is optimized for that platform. I've got two 2080ti's and I wish I had more!
Arnold GPU takes advantage of NVLink (an $80 device that links multiple RTX cards together) and in my opinion, is a MUST HAVE if you want to maximize speed in Arnold GPU.
You also have to be "OK" with Arnold GPU taking a bit longer to render than it's competition, but in exchange you get superior features and first-in-class plugin experience. Plus, you can always design in GPU and send to a CPU farm. Versatility!
What are the Key New Features of Arnold 6?
Faster creased subdivs: Hard creases are now fully supported in adaptive and multithreaded mode. This means creased surfaces will use all procs during subdivision.
Dielectric microfacet multiple scattering: Rough dielectrics are now energy-preserving by accounting for multiple scattering between microfacets for both reflection and refraction, avoiding the energy loss of the previous implementation. Disabling the global option enable_microfacet_multiscatter will restore the previous look.
Physical Sky shader improvements: The physical sky shader will now extend the color at the horizon all the way down to the bottom pole.
Improved roughness mapping of the Oren-Nayar diffuse BRDF: The Oren-Nayar roughness parameter has been remapped so that values close to 1 no longer result in excessive darkening. This change also improves the Standard Surface and Car Paint shaders.
Improved rough thin-wall transmission in Standard Surface shader: Refractions in thin-walled mode now appear blurry with non-zero roughness.
OCIO roles: Roles can now be listed with the color manager API by querying color spaces available in the Role (OCIO) family. This makes it possible to build UIs that list all known roles.
Skip RGBA denoising: Noise now accepts -ignore_rgba or -irgba to skip denoising of RGBA even if it's present.
OpenImageIO 2.1.4: OIIO support is now upgraded to 2.1.4.
More accurate albedo AOVs: Albedo AOVs now correspond more closely to the true albedos of the material's BSDFs.
New AOV Write Vector shader: This enables the writing of vector values into a  typed AOV, for example for recording positional values. These would previously have been clamped when using  typed AOVs
C4DtoA Plugin Enhancements
Material export/import: Materials can be exported to ASS files and MaterialX files (.mtlx) via the C4DtoA > Utilities > Material > Export to ASS… menu item or via the Alt~W+X shortcut in the Material Manager. Materials can be imported via the C4DtoA > Utilities > Material > Import from ASS… menu item or Alt~W+I shortcut. Selected shaders from a material can also be exported from the network editor.
Align nodes in the network editor: New Edit > Align nodes menu item and Alt~W+L shortcut is added to the network editor to align graph nodes in the layout.
Notification when no license found or license will expire: Now a message is displayed in the render settings when no Arnold license found or two weeks before the license expires.
New Licensing menu: Licensing menu moved to C4DtoA > Licensing with menu items to open the new Arnold License Manager, help and purchase pages. Note that single-user licensing is not available for testing.
Added aov_write_vector shader
Add Details and Project tabs to Arnold Sky: ****Light filters, user options and light linking settings are moved to these new tabs to be consistent with other lights.
Flush Caches menu moved under Utilities
Want to learn more?
Check out the C4DtoA 3.0.1 documentation and Arnold 6 overview.
---
standard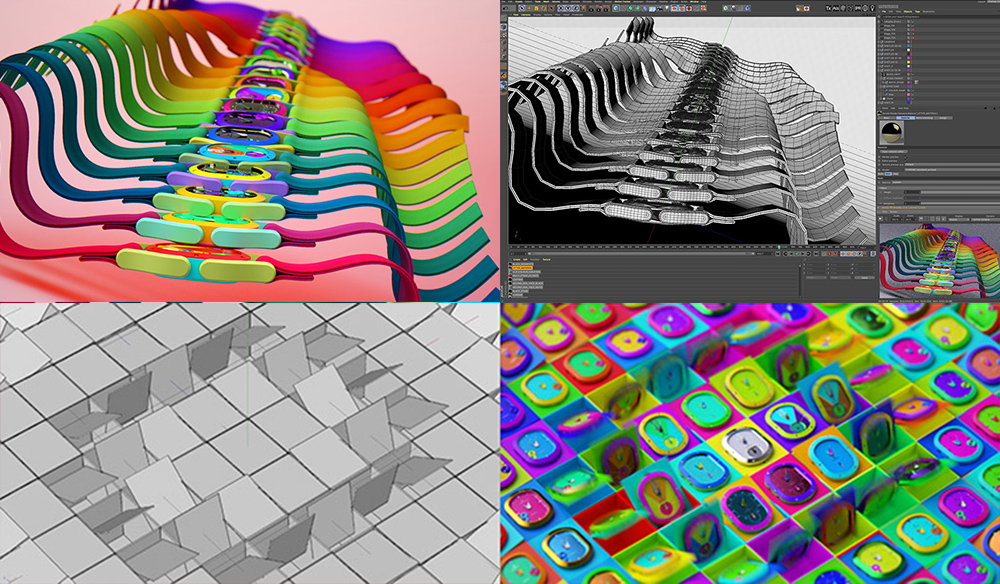 Paul Clements on how he used Cinema 4D, After Effects and Arnold to create a style-conscious watch promo.
Like many directors, Paul Clements runs his own business, London-based RocknRoller Studios. While he often handles projects on his own, he frequently builds teams of freelance artists and designers from all over the world, allowing him to keep work moving forward nearly 24 hours a day.
Known for his motion design and directorial work for Adidas, Cadillac, Sky and other brands, Clements was recently asked to design and animate a promo piece for Wolkov, a new watch company looking for a distinctive way to showcase their product's fresh, youthful features.
Because they had already seen and liked some of his previous work, Wolkov trusted Clements with a very open brief. And he spent two intense weeks using Cinema 4D, After Effects, and Arnold to create a launch promo that dynamically highlights the watch's versatility.
Here Clements explains his process explains his process, including why he chooses to work in an iterative way that can sometimes means redoing shots 20 or 30 times. Read More
---
standard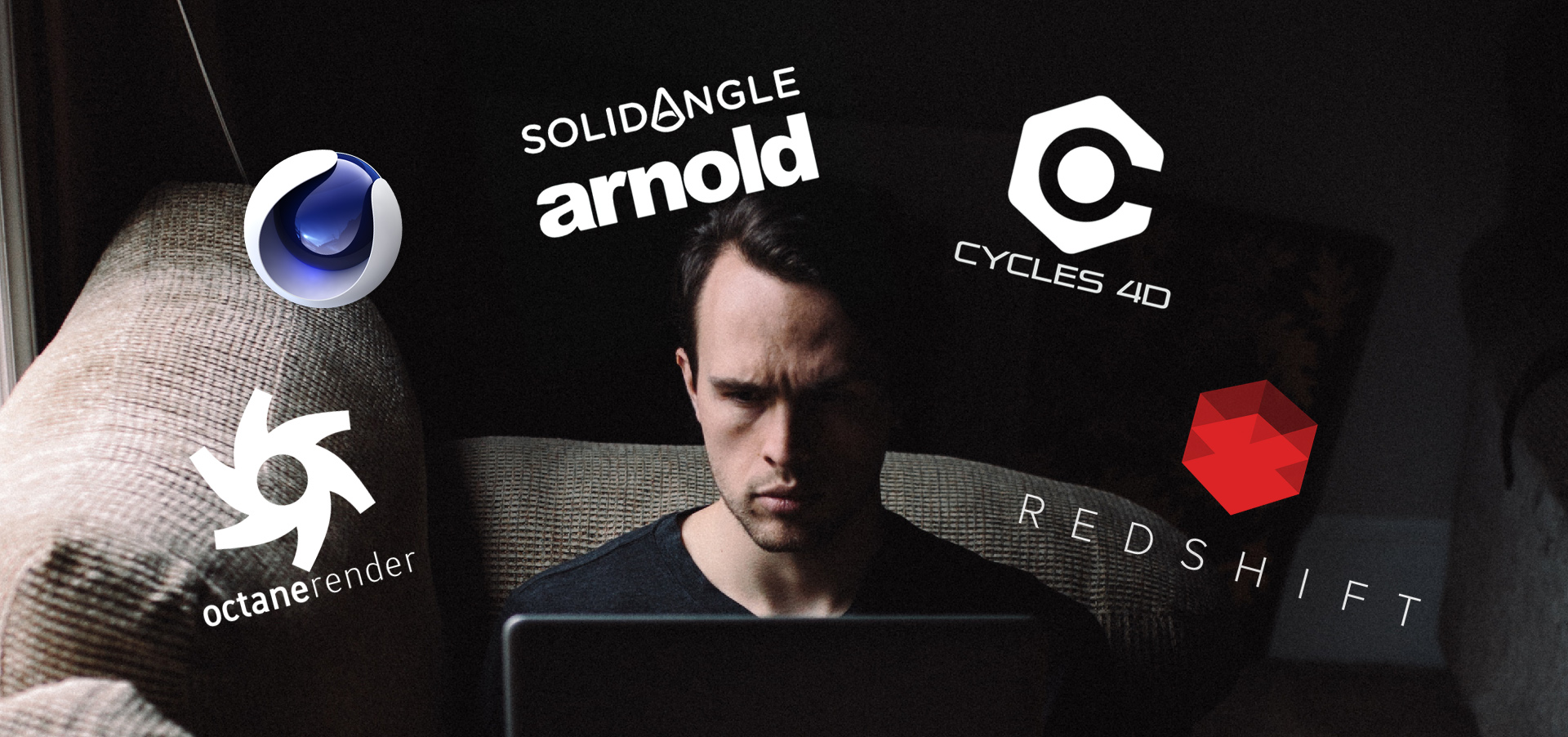 It's the number one question artists ask me. "What renderer should I use? Which one do you like the best?" Ok, so here's my answer…
*Updated March 2020 
I've been doing 3D professionally for over twenty-five years, built pipelines, ran jobs (large and small), creative directed at several award-winning studios, and during that time, I've used MANY different render engines. It's become a bit of an obsession.
So, I recently collected all my thoughts and decided to update my ideas on rendering in Cinema 4D (my favorite 3D application). Below you'll hear my thoughts on what I consider the big three render engines, Arnold, Octane, and Redshift. Let's jump in!
My Recommendation:
So What's the deal, Chad? What should I use? Well, I recommend to everyone the same two I use on a daily bases. Arnold and/or Redshift. Arnold is a versatile, rock-solid, and feature-packed and creates photoreal images with ease. Redshift is fast as hell, and it's production features get better with every release. There is a full breakdown of my thoughts below if you really want to dig in.
How do You Choose?
You need to do your homework, download the trial versions of all three and take them for a test drive. I encourage you to map out what you value in a renderer. Is it purely speed? Versatility? The look it delivers? Stability? There are so many criteria to consider, I suggest making your own pro-con list and see which one rises to the top.
Why no love for Physical/Pro-Render?
So before we begin, I should address the elephant in the room. You may have skimmed this post and noticed that I didn't include any of the built-in renderers for Cinema 4D. Namely, Physical Renderer and Pro-Render. Both are decent enough, but given how the technology has advanced in the last few years and how incredibly behind Physical is and how incredibly limiting Pro-Render is, I decided to not include them in this post.
---
The Big Three Players
Aside from the Standard/Physical render engines that come with Cinema 4D, there are dozens of third-party renderers for C4D and the other 3D applications.
In this post we are going to focus on the big three, Arnold, Redshift, and Octane. These render engines support most major 3D platforms (Cinema 4D, Maya, 3ds Max, Houdini, etc) and you can use them between these apps with a proper license.
In this scenario, we are going to focus on the render engines as they work inside Cinema 4D.
---
Arnold is best known for being the built-in renderer for Autodesk 3D applications. It's also been used in film production for over fifteen years. This renderer has been built around rock-solid features and uncompromised quality.
Compatibility – Works on both Mac and PC, works on both CPU and Nvidia RTX GPUs
Annual Price – $342 (locked) via Toolfarm
Annual Price – $598 (floating) via Toolfarm
Monthly Price – $45 via Autodesk e-Store
Educational Institutions – Free
Trial Version – Yes
Strengths:
Versatile – The most versatile out of the three boasting CPU and GPU versions, works both on Mac and PC, and even includes a robust Toon system. It's also widely supported on cloud based render farms like Pixel Plow.
Feature Rich – The most feature rich renderer in it's class matched by one of the best plugins out there.
High Quality – There is a reason Arnold is synonymous with quality. It's been the go-to for feature films for over 15 years.
Easy to Use – Arnold has fewer knobs to fiddle with and that's something I appreciate.
Fun – I can't stress this one enough. If a plugin/tool isn't fun or a pleasure to use, I'm gonna be looking for alternatives. Arnold never gets in my way.
Weaknesses:
Speed – Both the CPU and GPU versions are not the fastest in this comparison, but because I value features and look over speed, it's not a game changer for me. Though I totally understand those who value speed over everything else.
Licensing – Though the license system has improved, it still has a long ways to go. It's overly technical and a bit of a pain to get set up properly.
Autodesk Stigma – Many artists are skeptical about giving Autodesk money or supporting a renderer owned by the mega-giant. There is always that feeling in everyone's' mind that at one point they may stop supporting other 3D applications outside of their domain. However, these fears are mostly unfounded and so far the only negative thing to happen has been the loss of the beloved Arnold logo in exchange for the Autodesk version.
My Take:
Arnold is my daily driver renderer, I use every-single-day. I use Arnold primarily for the incredibly beautiful looks it delivers, but the plugin itself is a joy to use thanks to it's thoughtful design and added production features.
More on Arnold
---
Recently purchased by Maxon, Redshift is quickly becoming the go-to render engine for the motion design market. It's biased approach to rendering makes it one of the fastest around.
Compatibility – PC native, Nvidia GPU only
Node-Locked Price – $500
Floating License Price – $600 (minimum 5 licenses = $3,000)
Annual Maintenance – $250 for node-locked ($1,500 to cover floating 5-license minimum)
Annual Subscription (including, but limited to, Cinema 4D) – $81.99 per month via Maxon
Monthly Subscription License (including, but limited to, Cinema 4D) – $116.99 per month via Maxon
Educational Institutions – Free
Trial Version – Yes
Strengths:
Fast – Redshift's biggest advantage is its incredible speed. Being a fully GPU accelerated renderer (biased at that) means that this thing is gonna fire out renders fast.
Production Focused Features – Redshift directly targeted 3D production environments when they designed Redshift and it shows. As far as GPU renderers go, Redshift is one of the most feature complete.
Large User Base in Motion Design – Redshift's popularity over the last few years have skyrocketed largely due to the fantastic training out there. If you're a freelancer, you'll want to learn this renderer.
Maxon Owned – Not long ago, Maxon announced it had purchased Redshift and I'm confident that soon we will see the benefits of having Redshift developers and Maxon's engineers teaming up for something awesome.
Weaknesses:
Limited Features / Plugin – I know what you're saying. "Hey, didn't you just say that it was packed with production features?" Well yah. Sort of. Redshift is still very limited in terms of Mac/PC support (until Metal drops), CPU/GPU versatility (a long shot), no toon system, and a Cinema 4D plugin that still annoys me with a cumbersome UI/UX.
Many Quirks – Anyone who has used Redshift extensively understands this one. The plugin often requires far more clicks than you would think necessary and there are often many hoops you are forced to jump through or to endure to get cookin.
Effort for Realism – You can most certainly achieve beautiful results with Redshift, but it will take more effort. This one is entirely subjective so take my opinion with a grain of salt, but I can just tell when something is rendered with Redshift.
My Take:
Redshift is my go-to for quick turn around 3D work. Perfect for simple or fast bashing out of ideas. I'm typically using Redshift for shiny stuff, logos, machine parts, etc.
More on Redshift
---
Octane has been a big player in the motion design industry for over four years. It's ridiculous speed and stunning output quality has earned it a rabid fan base. Lately, it seems to be falling out of favor with artists and studios in production due to it's instability and lacking features.
Compatibility – PC native, Nvidia GPU only
Annual Price – $600 (super confusing pricing structure)
Monthly Price – Starting at $19.99 for small studios
Educational Institutions – NA
Trial Version – Yes
Strengths:
Fast – Octane is the fasted GPU renderer I've ever encountered. It's speed is unparalleled and often feels like some sort of magic.
Beautiful – I think the look Octane delivers is reliably gorgeous. Due to it's unbiased spectral approach to rendering, it's just friggin sexy. It's actually hard to make an Octane render look bad.
Innovative – Otoy's CEO is sort of like the Elon Musk of our world. Jules Orbach is just as much as a personality as the mogul behind the Tesla. His vision and wild ideas are gonna push Octane into exciting new areas (holo-deck?).
Community – Octane is used by MANY artists and often many studios. It's large user base can be a blessing and a curse.
Weaknesses:
Unstable – With innovation comes instability. It's just a fact of life. Octane is probably the most likely to crash of the big three. It's the complaint I hear the most.
Not Feature Focused – Often it feels like the Otoy team is not certain which market they want Octane to serve. It is lacking quite a few production features and most studios learn to stay away from Octane on large projects.
Quirks – I think most GPU renderers just suffer from quirks, it's a trend I see. Octane has many things that annoy Octane users but that incredible speed and look keep them coming back.
My Take:
I simply don't like creating materials and doing work in Octane. I find it's material system confusing and cumbersome, it's settings too complex and quirky, and it's features too limited for shot-based production. That being said, I still use it occasionally to do concept boards and I'm always impressed with the beautiful images it renders.
More on Octane
Coming Soon – New Octane Pro Training Series in Greyscalegorilla Plus
---