HDRI Studio Rig
WHAT IS THE HDRI STUDIO RIG?
HDRI Studio Rig is a Cinema 4D lighting plugin from Greyscalegorilla. Quickly and easily add Global Illumination lighting and reflections with High Dynamic Range Images. Rotate, adjust, and place your HDRIs for the perfect render*. Plus, create seamless backgrounds to complete your scenes.
This plugin includes an HDRI Browser with 70+ custom HDRI studio images and HDR rigs. The environments were captured in professionally lit 3D product studios, designed to to light your scenes, animations, and products.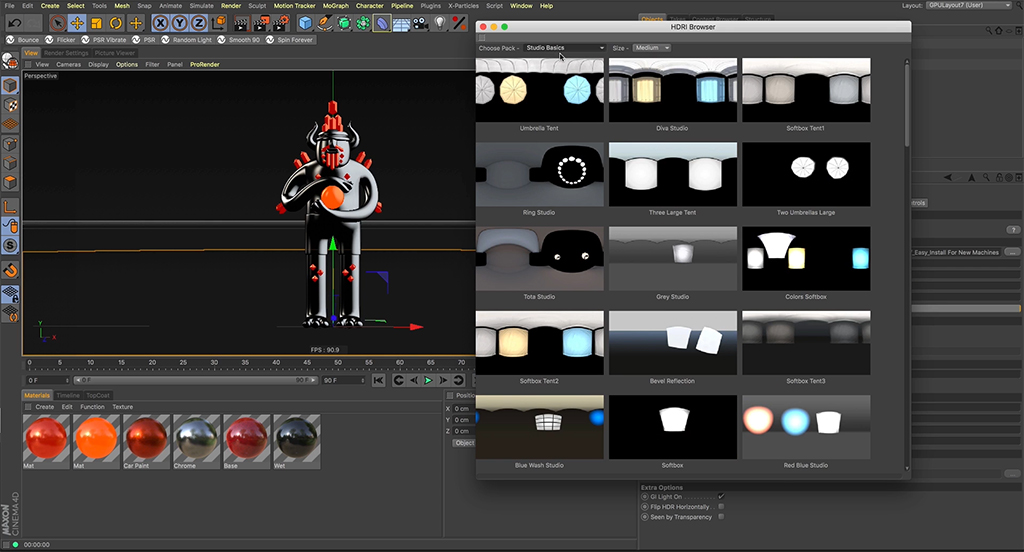 Render* your scenes, and quickly preview your project in the Cinema 4D Viewport.
*Compatible with Standard and Physical Renderer Only
*NOT Compatible with ProRender in Cinema 4D R19
Feature List
Easy-to-use Interface

"C4D Shadow Catcher" included

Seamless floor controls for perfect backdrops

HDRI Browser for quickly changing your HDRI

Render Setting Presets for quick and easy rendering

Simple Slider interface

Change scene brightness and reflection brightness separately

Easily blur your HDRI for better GI effects

"Rotation preview" for aligning your HDRI to suit your needs

Works with all GSG HDRI Packs (sold separately)

Exclusive Fill Light for easily adding light everywhere

Built in color correction controls

Background options for perfect alphas and backgrounds

Background gradient controls

Studio quality floor reflection built in

WHAT'S INCLUDED?
24/7 ACCESS TO YOUR DOWNLOAD VIA OUR CUSTOMER AREA
"NO HASSLE LICENSE" No waiting for authorization codes, you download, install, and go.
HDRI STUDIO RIG – This custom plugin helps you rotate, tweak and place your HDRIs perfectly for your render.
OVER 70 STUDIO QUALITY HDRIS INCLUDED captured from professionally lit 3D product studios.
SEAMLESS FLOOR RIG – Render your objects on a seamless floor with great shadow detail and perfect background.
CUSTOM RENDER SETTINGS – Custom render settings for every type of render including flicker-free animations. Built so you can worry about making your render look great and not about perfecting settings.
VIDEO TRAINING – Comprehensive video training for the pack including tutorials on how to use Global Illumination with Physical Renderer.
---
Check out The HDRI Studio Rig in Action
The HDRI Studio Rig has helped thousands artists achieve a perfect render. This is just a small example of the amazing work being done by these talented artists.
---
HDRI Studio Rig Render Presets
In this video, Nick explains how to use the render presets that ship with HDRI Studio Rig. This list of useful render presets can help lower your render times or be a fast way to get final quality images in Standard and Physical Renderer.
Flicker Free Global Illumination Presets
In addition to great still renders, you can also get flicker free GI renders using our custom presets for all compatible versions of Cinema 4D including the new Physical Renderer. Get great looking Global Illumination animation without slow render times or flickery shadows.
License HDRI Studio Rig
11770 sales
Product Details
Release date:
2016-08-05
Last updated:
2020-05-05
Current version:
2.148sb
Product type:
Cinema 4D Plugin
File format:
.zip
File size:
360Mb
Requirements:
R14 and above / Physical Renderer
Price:

$129.00

USD
Reflectance got to be too complicated. Topcoat simplifies my life just like HDRI Studio did to help get the look I wanted.
Best HDRI's on the Net I have searched everywhere!
HDRI Link simplifies workflow and increases productivity by easing the burden when transitioning between different rendering engines in Cinema 4D.
HDRI Link is a shortcut to the end of your HDRI scavenger hunt.
HDRI Link has become my go-to plugin when doing HDRI lighting in Arnold.
I have TopCoat docked in my layout, I use it so much. I'm always throwing on and layering a few things. It's optimized well, too.
With clients using Redshift, Octane, and Arnold, the ability to hop between them is invaluable. Plus the ability to swap studio presets and save them… I'm not sure how people will be able to work without this.
GorillaCam is what EVERYONE needs to add that extra layer of depth to their animation. I cannot see myself going back to the standard Cinema 4D camera ever.
It's hard to think that a tiny little tag can change your workflow so dramatically. But HDRI Link does just that.
Light Kit Pro has completely changed how I approach lighting my 3D scenes, making the process quicker and more enjoyable than ever.