Make Beautiful Renders in Seconds with Cinema 4D – Cineversity 2018
In this 2018 NAB presentation, I'll show you how to get faster preview renders, as well as a few more Cinema 4D tips and tricks. You can also download a free script from Greyscalegorilla to help you speed up your workflow.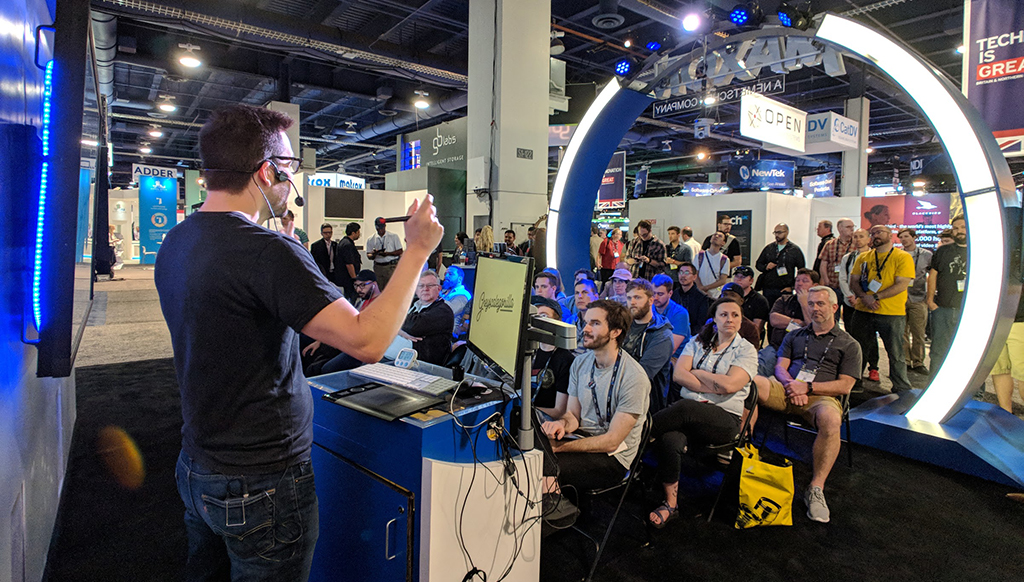 I was fortunate enough to experience my ninth visit to the Maxon booth at NAB, and I'm so very grateful to have presented once again. This year I wanted to do something a little different, so I decided to giveaway a tool we built in house that I've used countless times since we've produced it.
Filter Switch is a script developed by Chris Schmidt that allowed me to quickly preview renders in the Cinema 4D viewport. Rather than waiting for an entire render, I could get a sample of my animation in seconds, instead of minutes. Here's a real-time comparison in C4D R19.

We've packaged up this script, my presentation files, and my C4D GPU layout for you to download. You can also head over to the blog to watch a quick tutorial to get you started.
FREE SCRIPT AND NAB FILES
---
In my 2018 NAB presentation, I briefly talk about my career path thus far, and then get into the really good stuff! I'll show you ways to use the C4D OpenGL Viewport, which was overhauled in R19.
It was just by chance that Chad Ashley was showing me progress on a piece he was making for GorillaCam when I noticed he was showing me a preview in the C4D Viewport. It wasn't long after that, that I was diving deep into the Viewport settings to help me speed up my renders. I'll show you some tricks to save you a ton of time, as well as how to see things like HDRI's in the C4D Viewport.
I'll also touch on some of our tools, like Topcoat for reflections, and previewing looks with the HDRI Studio Rig.
Hope you find this presentation helpful. Cheers!
Here is a timestamped breakdown of the presentation, courtesy of Cineversity.
00:00 – Introduction
00:57 – Reel
01:56 – Free Stuff Link
02:44 – Nick's Background
05:27 – Demo Time!
10:15 – Using Hardware OpenGL
14:01 – Adjusting the Display Settings
18:57 – Example Scenes
20:53 – Eliminating Viewport Crud
22:53 – Jeep Scene
24:12 – Adjusting Anti-Aliasing and Super-Sampling for Cleaner Images
27:42 – Working with Dynamics
29:06 – Adjusting the Picture Viewer RAM Preference
32:21 – Starting a Project from Scratch
35:17 – Adding Reflections with Topcoat
36:25 – Auditioning Looks with HDRI Studio Rig
37:23 – Adding Variation with the Random Effector
38:01 – Adding DOF
40:37 – Adjusting Render Settings
41:56 – Adjusting Render Settings
48:44 – Conclusion