50 More Minutes of Cinema 4D Tips and Tricks – Cineversity 2018
Greyscalegorilla's own Chris Schmidt dives deep into Cinema 4D with 50 more minutes of tips and tricks for animation, modeling, text, effectors, deformers, and more in this NAB presentation.
If you love learning a ton of tips and tricks in a short amount of time, then we've got the presentation for you! In a follow up to his original 50 Minutes of Tips and Tricks in Cinema 4D, Chris Schmidt is back with 18 different Cinema 4D workflow topics. He'll again show you countless shortcuts and quick workarounds.
---
We've packaged up some of the project files featured in this presentation, as well as files from Nick's presentation. It also includes the free Filter Swtich script too!
GET PROJECT FILES
---
Ready to start learning? Let's dive into this video. Thanks for Cineversity for the recording, and to Maxon for having us at their Cinema 4D booth at NAB.
Here is a timestamped breakdown courtesy of Cineversity.
00:24 – Bevel Inversion
02:13 – Scale to Timeline
02:31 – Select Through Objects
03:38 – Text Geometry
08:56 – HPB
10:21 – Collapse Panels
11:20 – Offset with Falloff
15:26 – Super Poly Clean Redux
17:25 – Animation Pallete
20:42 – n-Sides and Lofts
24:36 – Proximal Falloff
31:11 – Too Many Objects
32:59 – Bouncy Springs
35:35 – Shadow as Texture
39:04 – Booles!
43:38 – Sketchy Variation
51:48 – Second Executable
---
Bevel Inversion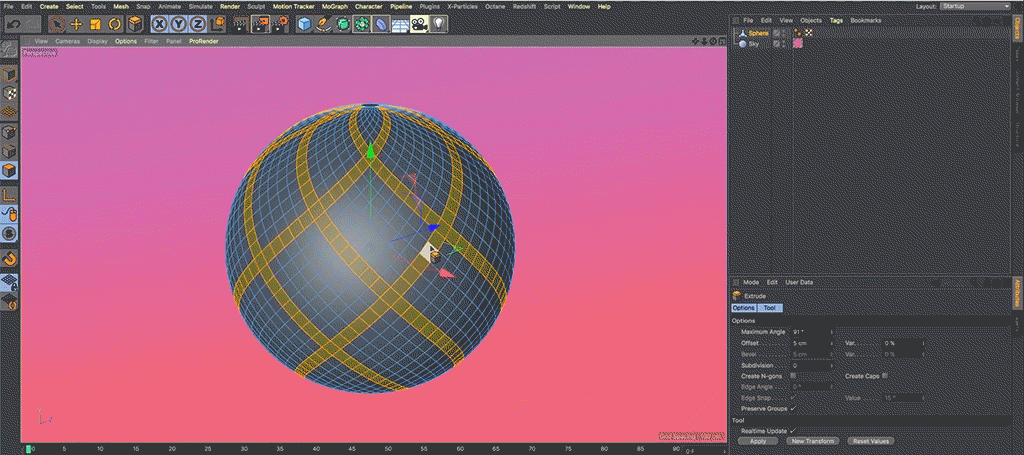 Create inverted bevels with this quick-and-easy modeling technique.
---
Scale to Timeline

Did you know that you can just double-click the Power Slider to scale the timeline to the length of your project? Now you do. Next tip!
---
Select Through Objects

Working with a ton of objects in your project? Hold down the Shift key and right click in the area of the object you want to select. A menu will appear, showing you all the objects near your cursor head.
This is how Chris was able to quickly manage and find all the 3D models he was using in the trailer for The Happy Toolbox model pack.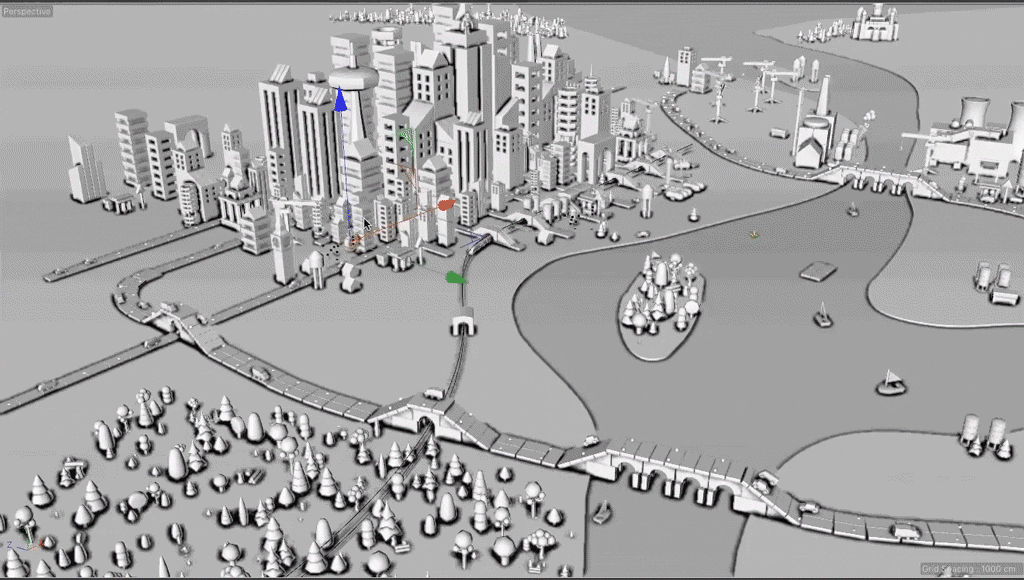 Additionally, you can use the S key in both the Object Manager and Viewport.
Hovering your mouse in the Object Manager and hitting S will reveal the project hierarchy and scroll you to the object.
In the Viewport, hitting the S key will zoom into the object you had selected.
---
Text Geometry
Having trouble working with fonts in 3D? You're not alone. Fonts were designed for 2D, and with this workaround, you'll be able to better control your typeface geometry.
Rather than using a terrible looking extrude on fonts, use the polygon pen tool. Open the polygon pen tool with shortcut M then E. Turn on snap, you can hit P to bring up the snap menu. Make sure Spline Snap and Vertex Snap are selected.
You can know quickly create polygons in the top-down view. Just double-click to close the polygon, and then start the next section of your text. Don't worry about making mistakes, because it's easy to comeback and adjust these shapes for fine tuning.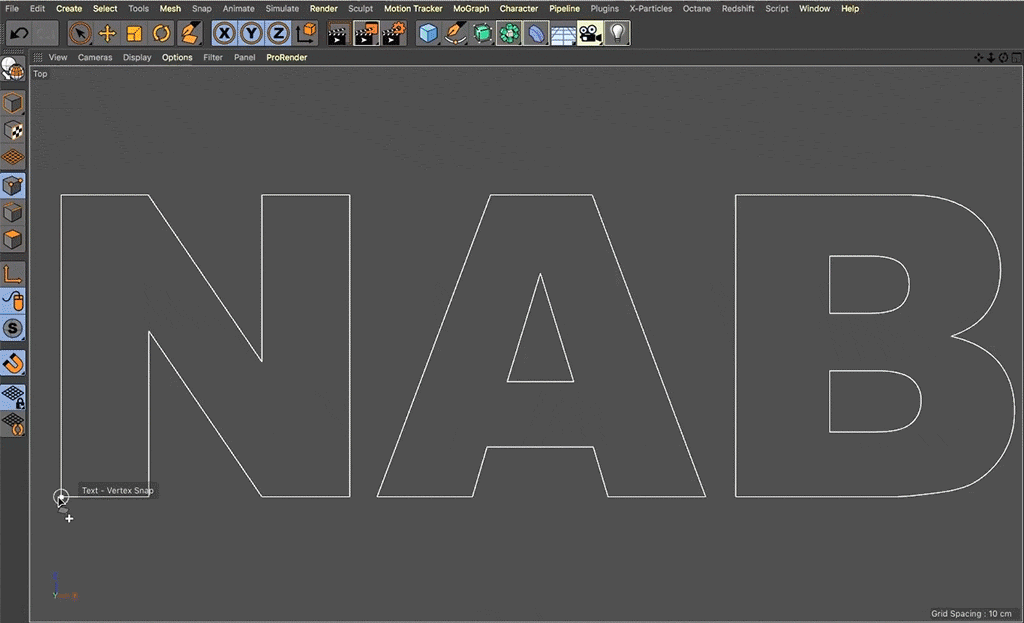 You can now hold down the Command (Ctrl) key to drag out an edge from the last polygon. Now you can quickly cover the rest of the lettering.

When you're down with the polygon tool, you will have much for control over your fonts. Now you can easily make adjustments, like adding a bevel.

---
HPB (Heading, Pitch, Bank)
Often confuse heading, pitch, and bank? Here's an airplane model built to help you remember.
Heading is the direction the plane is heading on the z+ axis. Think of it as changing directions to the left or right.
Banking is a pivot action, like a plane dodging pullets may roll to the side.
Pitch is and up or down movement, like adjusting for takeoff.
---
Collapse Panels
Too many objects in your panel, and still need to see more? Want to close the Viewport to see more materials?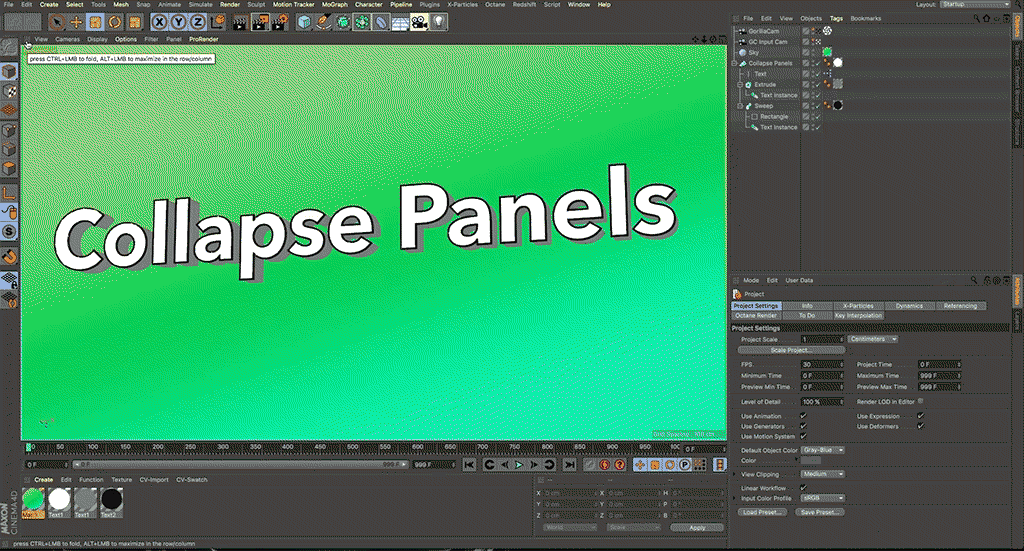 Hover over the panel control and click-down on the middle mouse button, or scroll wheel. This will collapse or re-open panels.
This help you avoid having to constantly resize your panel sizes.
---
Second Executable
Did you know you can run multiple copies of Cinema 4D at the same time? If you are caught up rendering one project, but need to keep working, you can open a second copy of Cinema 4D.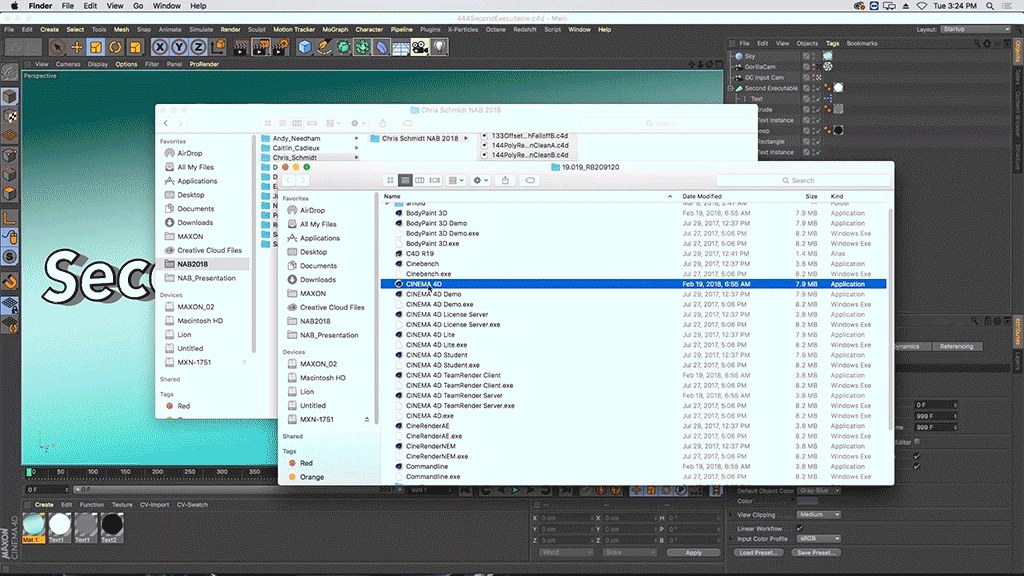 Find the original copy of C4D, and duplicate it in your Finder or Folder. Then open the second copy to have two copies running at once.
---
More Tips and Tricks
That's just a glimpse of a few tips an techniques you'll learn in this presentation. Be sure to watch for more animation tips, creating Dungeons and Dragons maps using Cloners, Effectors, Skethc & Toon, and Proximal Shader, using shadows to create texture, creative ways to use Signal, and more!
---
Want more Cinema 4D tips, tricks, and presentations? Check out these Cineversity videos.