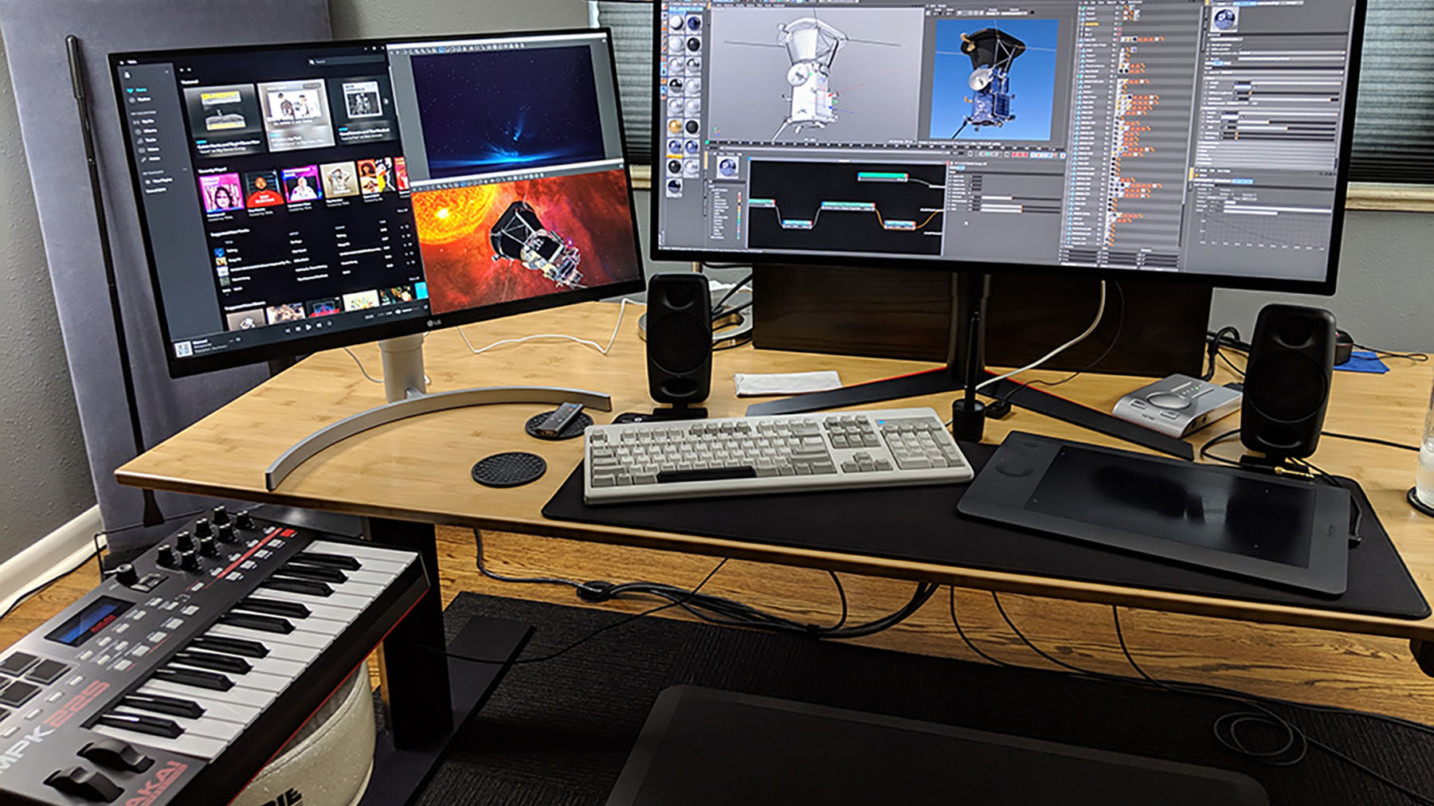 Articles
Searching for the Best Monitor Displays for Motion Design and 3D
by Shawn Astrom
A back-and-forth journey to find the perfect new displays for 3D artists and motion designers.
If you think shopping for new PC is difficult, try shopping for a new computer display.
I've been rocking two displays for quite some time now, one NEC PA271w-bk as my main and a ViewSonic VP2780-4K for 4K reference. I knew my displays were starting to show their age and it was time to upgrade, but deep down inside I was dreading the process.
My first inclination was to check out the NEC website, only to find out that the newest version of my current monitor didn't have many new features other than LED backlighting. After quickly being overwhelmed by the amount of options, I decided to see what I could find locally.
I drove to a MicroCenter and discovered the Dell U3818DW, which was a 38″ widescreen monitor with a resolution of 3840×1600 and a PPI of 110 for $899. It seemed like it could be the perfect monitor to replace my two. I quickly looked it over and decided the price was right, so I bought one.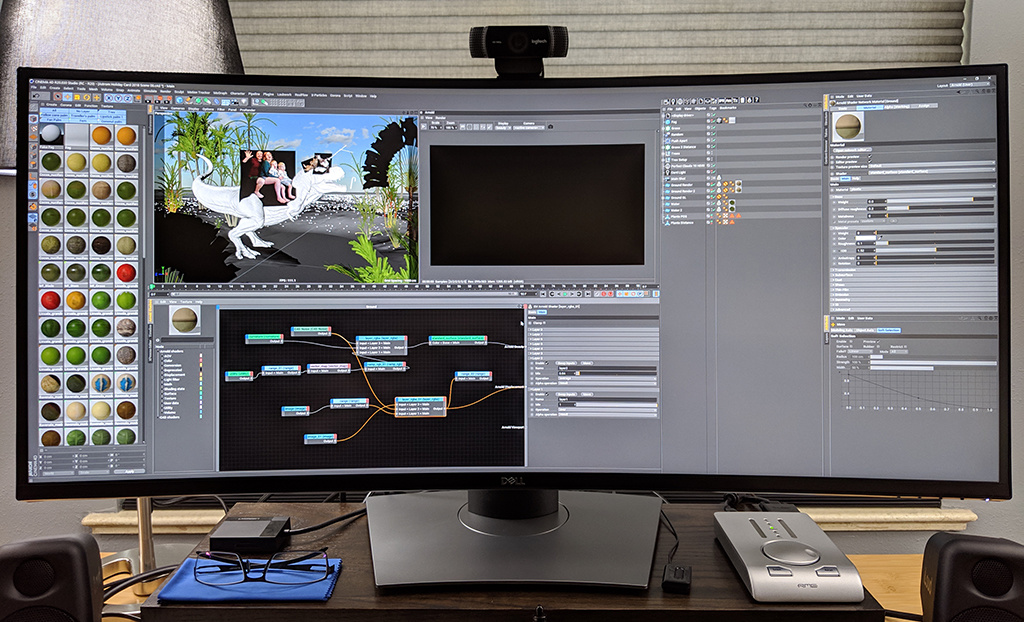 The Dell U3818DW is definitely wide.
I lugged this beast home and quickly set it up. The screen was even in terms of color and lighting and after staring at it closely for a few minutes I determined there were no dead pixels. With much excitement I went right into Cinema 4D and completely redesigned my layout so that I could take full advantage of such awesome screen real estate. Everything was working great.
Two days later I was in C4D navigating around the viewport and I noticed something quite peculiar. Anytime I moved the camera around when there were some light to dark gradations, there was some very bad banding occurring. I thought this thing was 10bit, so I did some extra research and quickly came to the conclusion that this particular display had issues with motion banding. Being a motion designer and 3D artist, this was not acceptable. This thing was getting returned.
I really did love the 38″ form factor, so I looked for other similar displays. I found a few from LG, ViewSonic, and Acer. After digging some more, I figured LG was the best bet and I purchased the LG 38UC99-W. At $1299, it came in at $400 more than the Dell.
Once setup, I opened up Cinema 4D and did a view-port motion banding test, and I was delighted to see that it did not have any motion banding. Next I started to scan the display closely to see if there were any dead pixels. I noticed some debris so I grabbed my microfiber cloth and try to wipe it off the screen but it wasn't coming off!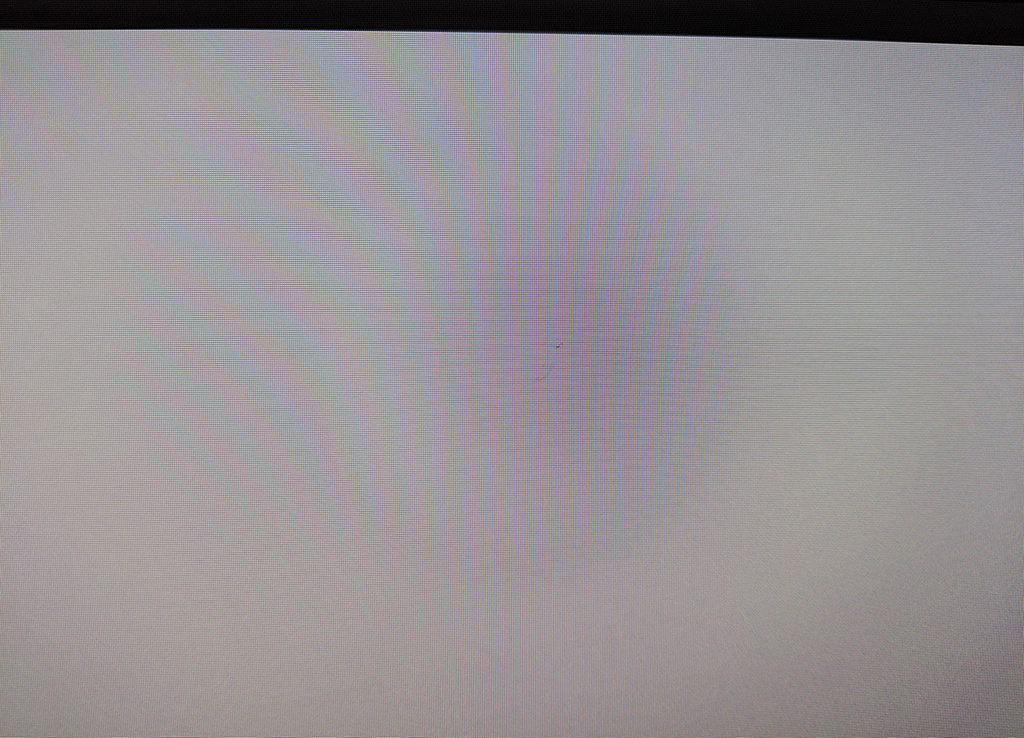 LG 38UC99-W debris behind the screen.
The debris was stuck inside the panel. Instead of exchanging the LG for another one like a normal person might do, I started to give up on the idea of a 38″ display.
I wanted to give it one more try, so I ordered the ViewSonic 38″ display. To no surprise, I immediately noticed a very bad discoloration from the left to the right side of the monitor. I think this solidified my thoughts that these 38-inch panels were all problematic and not ready for this type of work.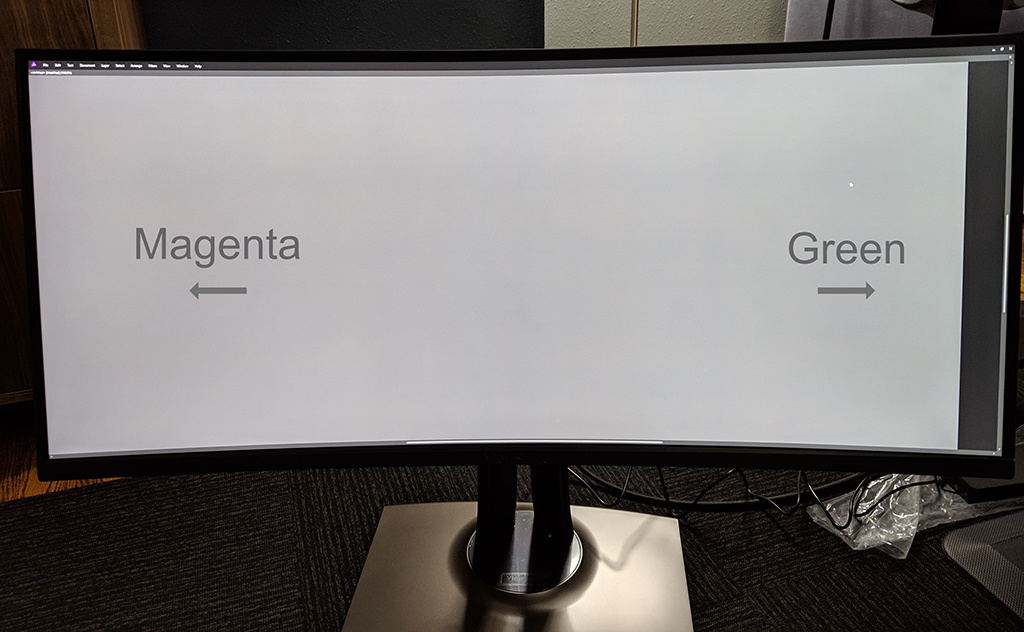 ViewSonic VP3881 discoloration.
I was still determined to find the best solution without have to spend too much money. After further research, I narrowed down my options to a couple 32″ 4K displays. My next purchase was the LG 32UL950-W (MSRP $1299), which I was immediately impressed by. Wonderful bright colors and awesome contrast. I opened C4D and sure enough you can get away with running Windows at 100% 137 PPI.
After using this monitor for about a day or so, I noticed that the colors were shifting quite drastically from the left to the right side. There was a bit of magenta tint on the left and green tint on the right. This was something I did not expect to see on LG's flagship 32″ display.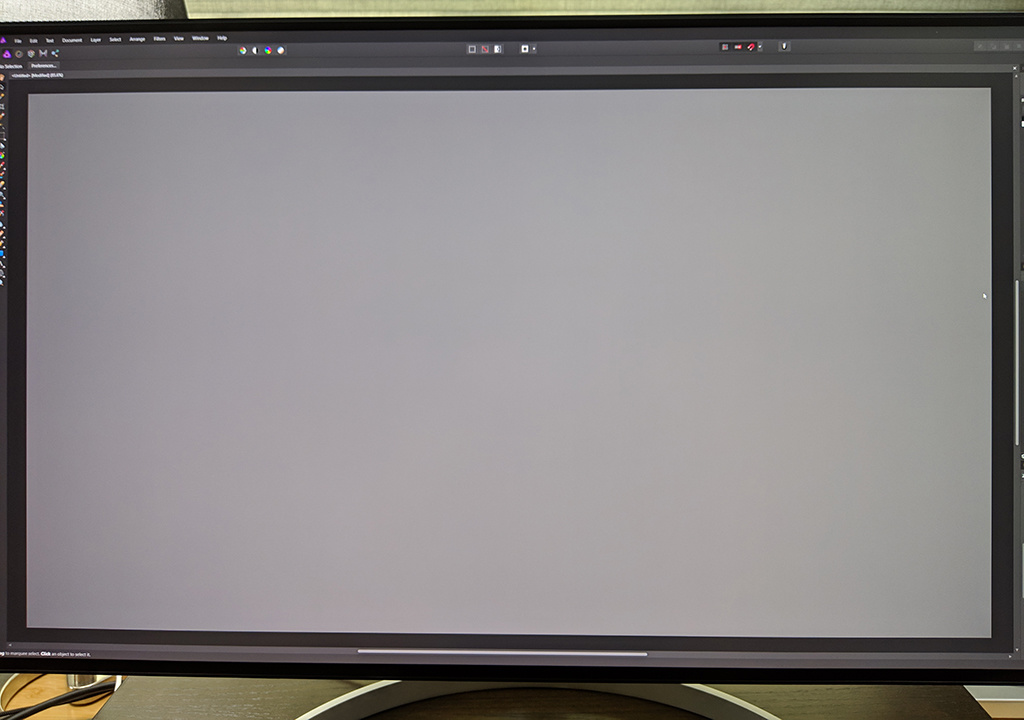 LG 32UL950-W magenta to green shift.
I actually started to feel like 32″ was a little large. It's as if the screen is outside of your peripheral vision. I found myself having to move my head around a lot more than with my 27″ monitor. Focusing my eyes from the corners to the center of the screen also felt like a bit of a strain. With all of these concerns, I decided that this one had to go back as well.
A widescreen monitor still made the most sense for work, as those of us in high-end professional software require a large user interface to access all of the tools we need. I noticed Dell had a 49″ curved widescreen display (Dell U4919DW) that I had missed previously, but when I went to the store they were sold out. Next to the Dell demo model in the store was another LG widescreen that looked quite stunning. The LG 34WK95U-W was an ultra-wide 5K, which I figured the pixel density must be far too high, but I wanted to test it out.
To my surprise the LG 34WK95U-W was the best display I had experienced yet. Even though the PPI were approaching a level that required me to run Windows at a DPI scaling of 125%, I was quite happy with how this display looked. I jumped into C4D and adjusted the layout for all the amazing screen real estate and pixel density.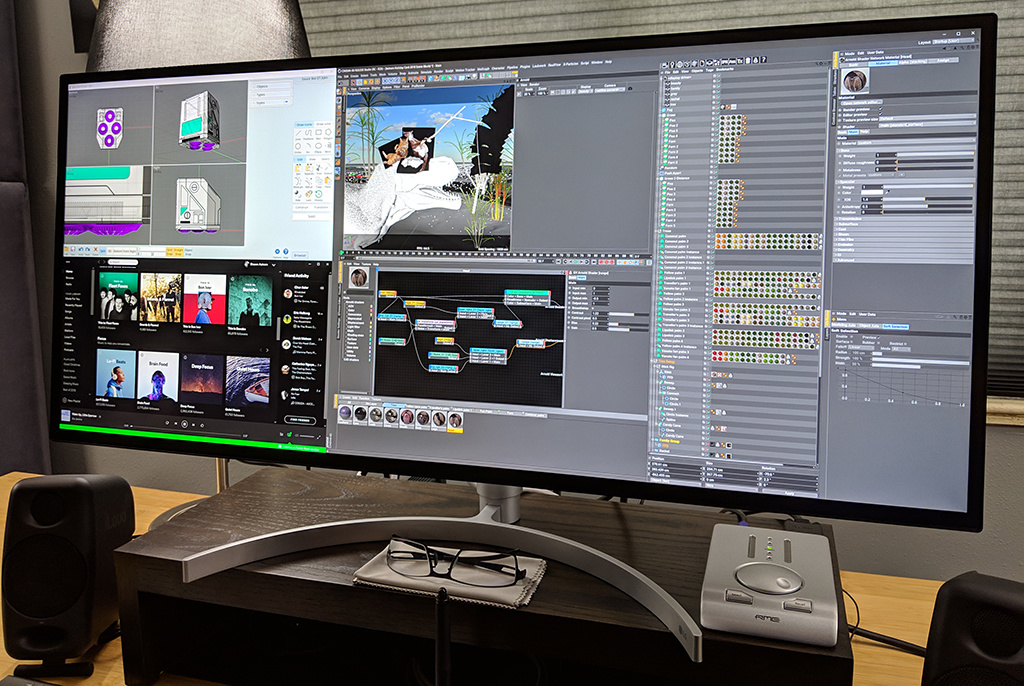 LG 34WK95U-W was almost a winner.
After my initial test, I decided to connect my other computer. That's when I checked the back of the display to notice that there was only one DisplayPort and two HDMI ports. The DisplayPort was already taken by my first machine, so I hooked up my HDMI cable to the second computer. That's when I realized the monitor was not running at 5K but rather 3K or 3440×1440.
The current HDMI maximum resolution is 4K, so I couldn't get a 5K signal on the other machine. To do so, I'd have to get a KVM switch for both computers to connect to the one DisplayPort, which would end up costing me another $300-400.
This was my breaking point, I was at my wit's end about the entire monitor upgrade. I then looked into all sorts of monitors, from smaller in size to high-end professional reference grade monitors that cost upwards of $10,000. I felt absolutely lost.
Throughout this entire process, it finally dawned on me that I had never considered any gaming monitors. I checked out a couple of new LG 34″ wide screen gaming monitors, which reviews raved as the best gaming displays to date. I opted for the LG 34GK950F-B (MSRP $1199), which is the AMD FreeSync version of this display and $250 cheaper than the NVidia G-Sync model.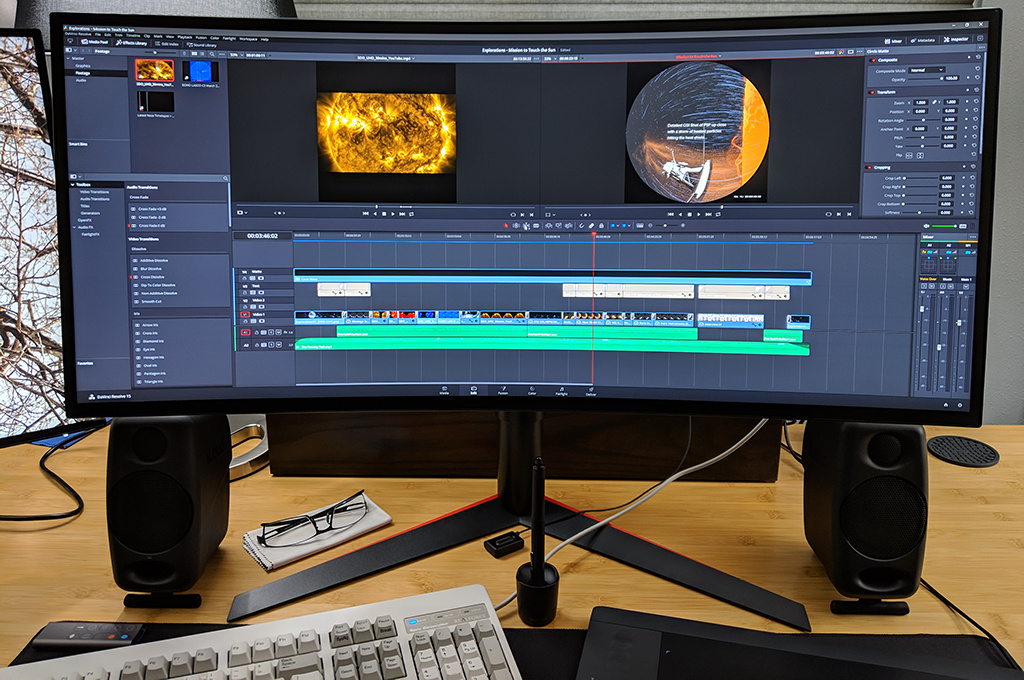 LG 34GK950F-B is the keeper.
After setting it up, it was running at 120hz and I really had no idea what I was missing at 60hz. Everything on the screen ran more fluidly at 120hz, including the Cinema 4D viewport. I was pretty much sold that this was finally the monitor I was looking for. The only downside was that the resolution was a little lower than I was hoping (3440×1440).
I still really needed a true 4K reference. I decided that the best option would be to run this LG 34″ alongside a smaller 4K model as a secondary display.
I discovered BenQ's new 32″ 4K monitor, the BenQ PD3220U. It was expensive (MSRP $1,199), but at this point I knew I could just return another monitor if I needed to.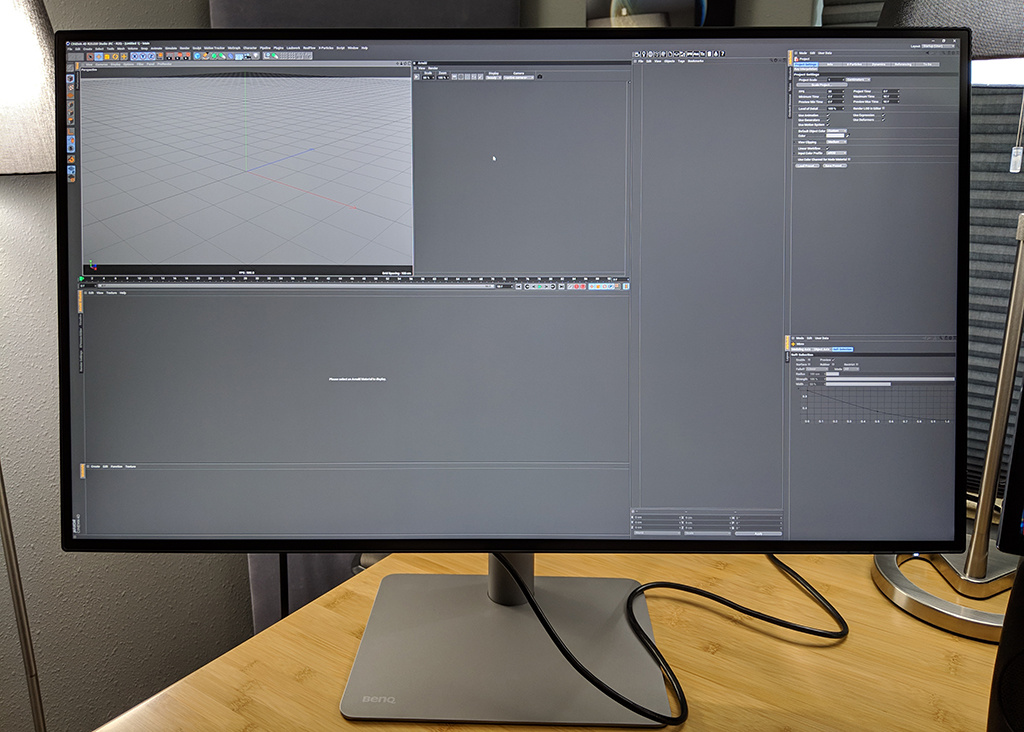 The BenQ PD3220U grey uniformity issues.
Welp, to keep my hot streak going I ended up returning this monitor because I noticed the same green magenta tint variations from left to right.
My next attempt was the new NEC EA271Q-BK (MSRP $619). No go. The display was beautiful, but again I noticed color uniformity issues. Back it went.
Now, any sane person may have just quit entirely by now, but given how stubbornly determined I was, I kept going. I headed back to a local store and found the LG 27UK650-W (MSRP $499) with very high reviews. It happened to be on sale, so I saved $50 at the register. I setup the monitor to check for color uniformity, and it finally happened! No issues. I felt like I had just won the lottery!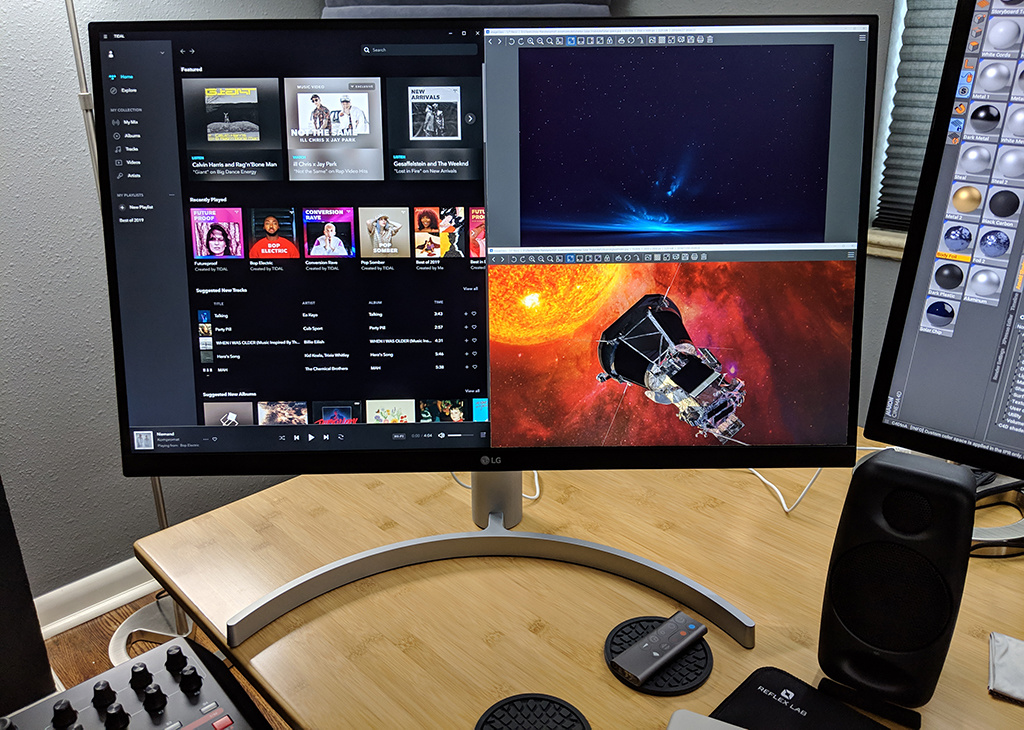 The LG 27UK650-W became my secondary 4K reference monitor.
So what did I learn in this entire experience? I'm likely far more particular than most people, but knowing I'd be staring at these displays for 8 hours a day for the next few years, this was just too important for me and my work.
Also worth note, though it may just be a coincidence, I have this funny feeling that shipping 30-40 lbs of sensitive computer equipment through the mail probably doesn't do them any good. It is likely that so many issues I experienced with these many monitors may have occurred because of the shipping process.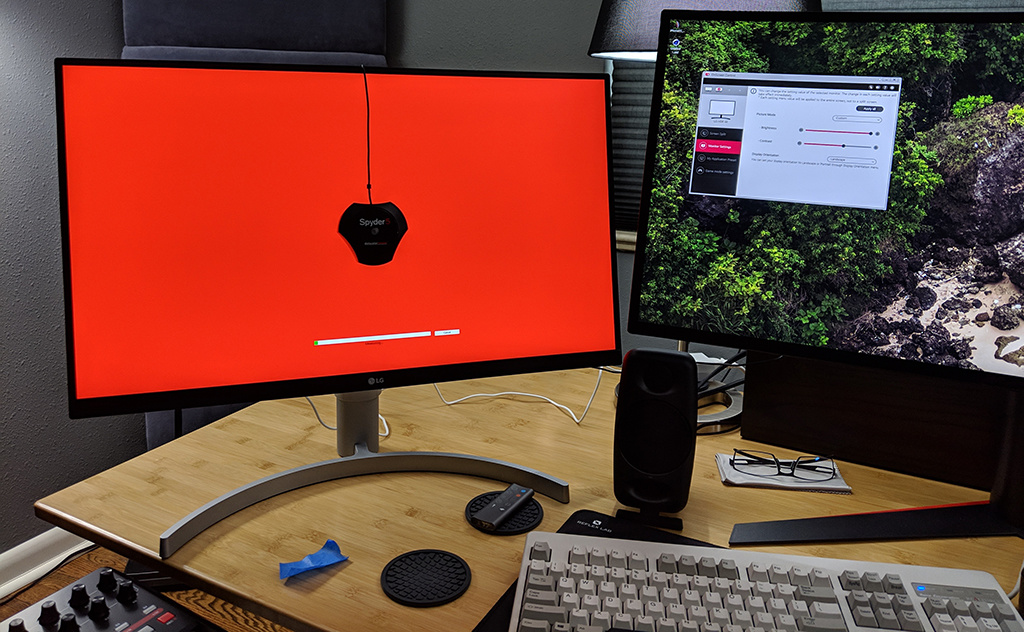 Calibrating with the Spyder Elite 5.
I had one last thing to do in this monitor journey, and that was to finally calibrate these displays. I used a Spyder Elite 5 (MSRP $249, but available cheaper) and this may have been the best money I spent. It did an amazing job at matching the colors of both of my monitors and making fairly drastic color adjustments to get them accurate as possible.
The Spyder Elite 5 also analyzes the brightness of light in your room and coaches you on adjusting your monitor brightness to the correct levels. I also used a web-based monitor test tool, EIZO monitor test. Feel free to give that a test on your displays too.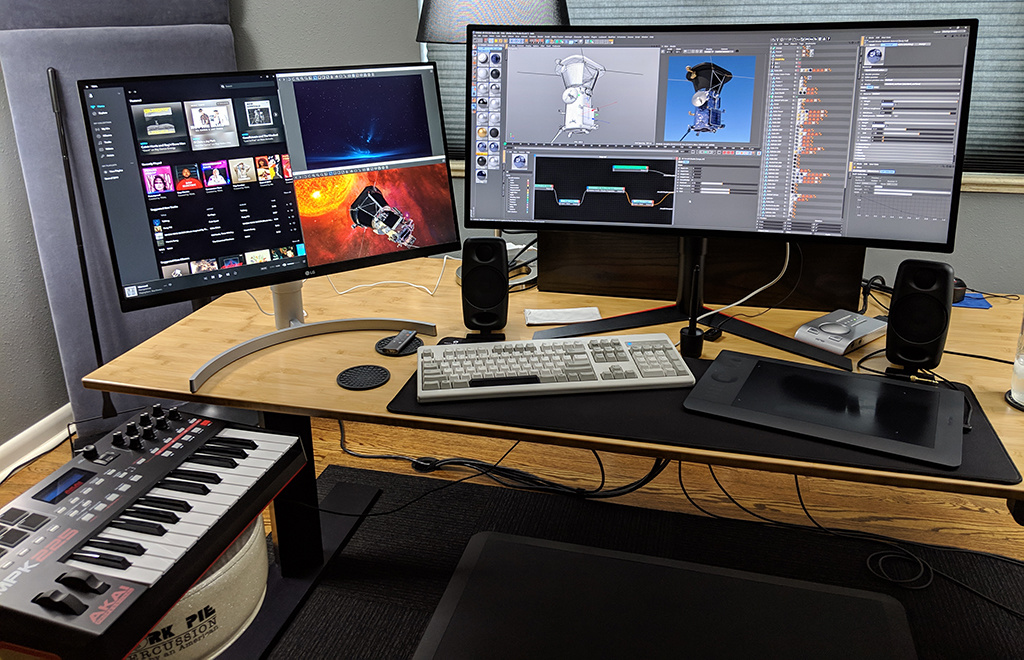 My final monitor setup.
Here are my final not at all scientific results:
Best Display (Main) – LG 34GK950F-B
Best Display (Secondary) – LG 27UK650-W
Calibration – Spyder Elite 5
All images via Shawn Astrom.