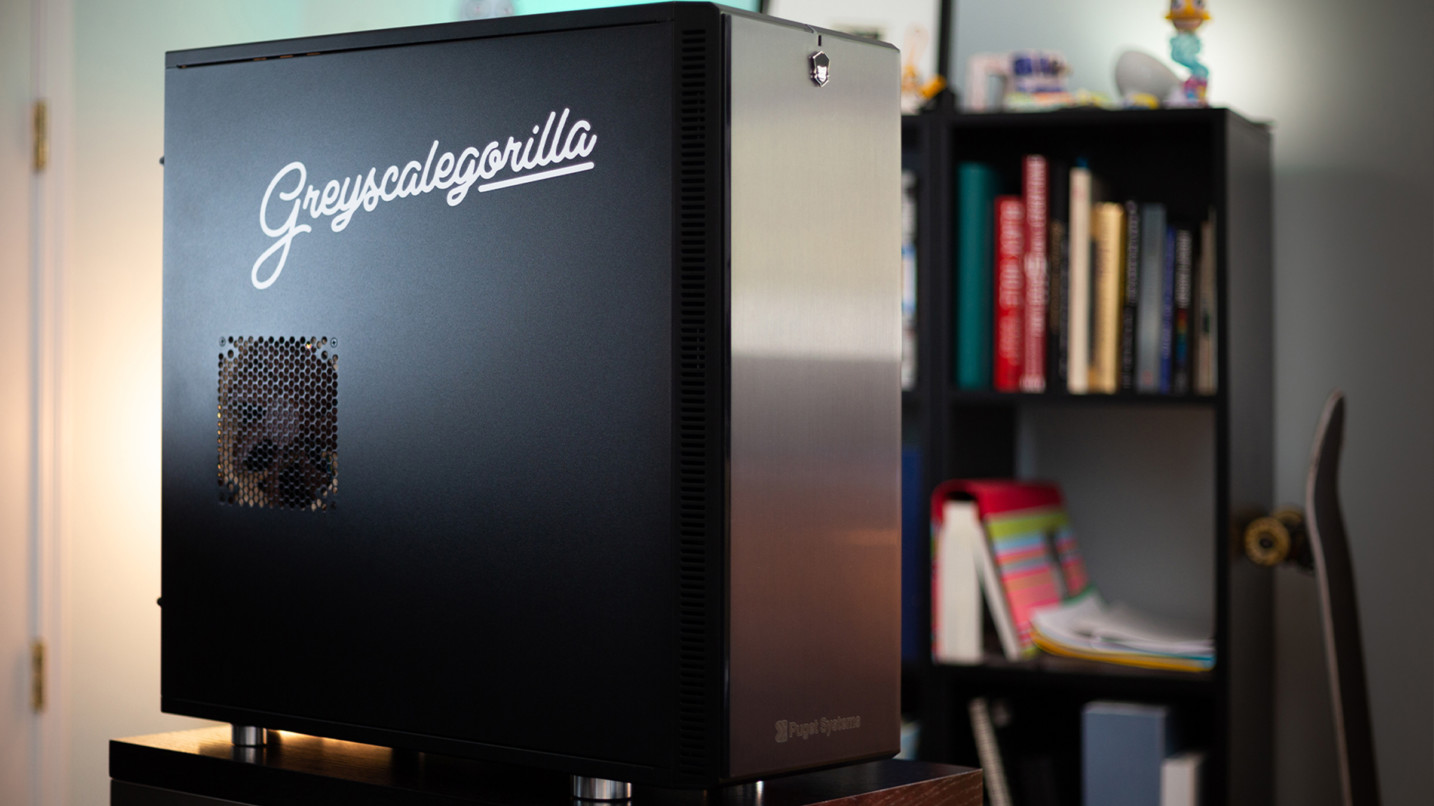 Articles
Choosing Puget – A System Built for 3D
by Chad Ashley
We heart Puget.
After a few years of various frustrating hardware issues, Nick and I decided it was time for a PC upgrade. Between failed liquid coolers, loud fans, and dead hard drives, we'd had it with systems that were designed more for gaming than GPU rendering. We wanted our next systems to be ready for work, and we needed a hardware partner that understands 3D/Motion Design… In walks Puget Systems.
We considered building our own systems for a brief moment, but after COVID decimated supply chains, the thought of trying to source parts made us decide against it. With only some of the team being PC savvy enough to handle issues independently, we also needed top-level support.
Looking for specs and benchmarks? Scroll to the bottom!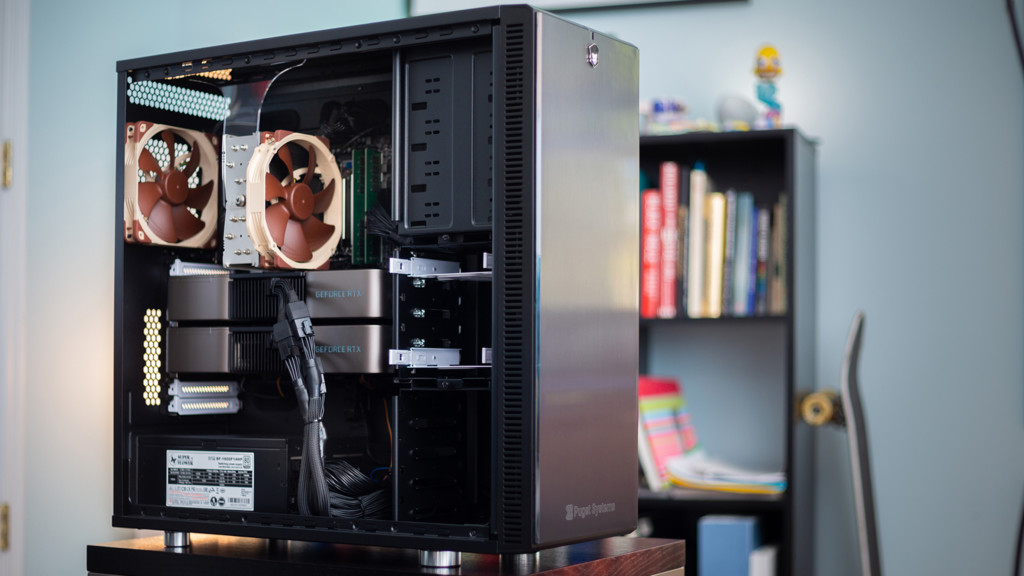 Heard good things
I had been hearing great things about Puget Systems of Auburn, Washington, for some time. Their blog is filled with research posts where they frequently dive deep into the hardware and how it relates to our industry. It seemed that every Puget customer I talked to was singing their praises. They had built a solid reputation based on excellent build quality, thorough testing, and top-level support. So we pulled the trigger.
The entire experience was unlike any I've had when buying a PC. I called them up on the phone and told them what sort of work I'd be doing and what kind of renderers I'd be using. And the whole time, the person on the phone knew EXACTLY what I was talking about. It was a totally refreshing experience. After a short while, we landed on a spec list that would work for both CPU and GPU rendering (#cpunotdead).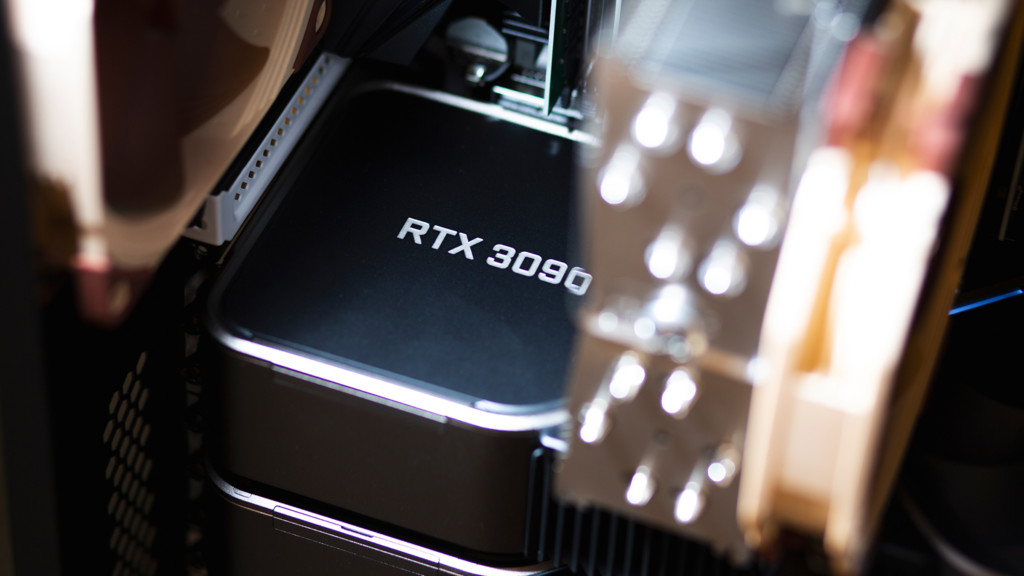 I mentioned thermals and system volume as some of my biggest concerns (since my office is on the top floor and gets quite hot when I'm rendering). My computer is also next to my desk, so I needed something relatively quiet. The salesperson went into detail about how serious Puget takes testing and specifically thermals. They rigorously benchmark your system and even take thermal images under full load. I was immediately impressed.
In the end, Puget recommended their Fractal Design Define XL R2 case and suggested I went with a Noctua NH-U14S TR4-SP3 CPU fan instead of a closed circuit liquid cooled option. They explained that "it's not a matter of IF a liquid cooler fails, it's a matter of WHEN". That was an easy sell for me since both Nick and I had to replace our Enermax coolers. If I never have to replace another one, it will be too soon.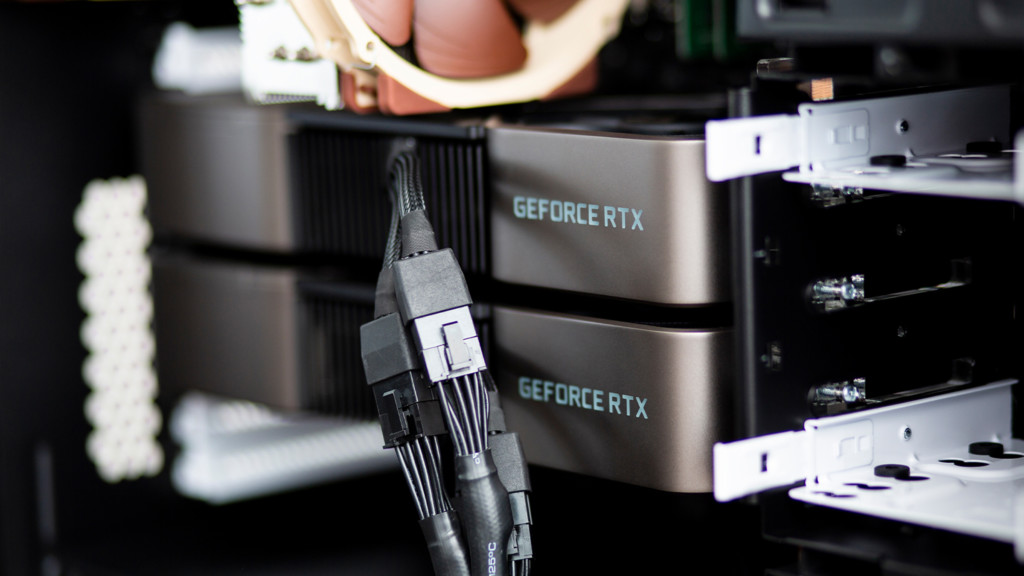 3090s? No Problem
I was also concerned that our wait time to get two systems with dual 3090's would be insane, but they assured me that it wouldn't be too much of an issue. They'd even give us founder's edition cards, which was terrific because I've always thought those were the coolest looking ones available (silly, I know).
So with the spec sheet done, the order was made, and we immediately got a personal confirmation email thanking us for the order. It felt good to get a system from a company that specializes in 3D workstations for change.
Not too long after the order was sent, my machine was delivered. It came in a branded box weighing in at just under 80lbs. I immediately opened the box and was greeted with a white three-ring binder labeled "Information Booklet", complete with a photo of my system on the cover. Inside was a treasure trove of information—everything from a welcome letter to a detailed list of everyone on my system's team. Super impressive.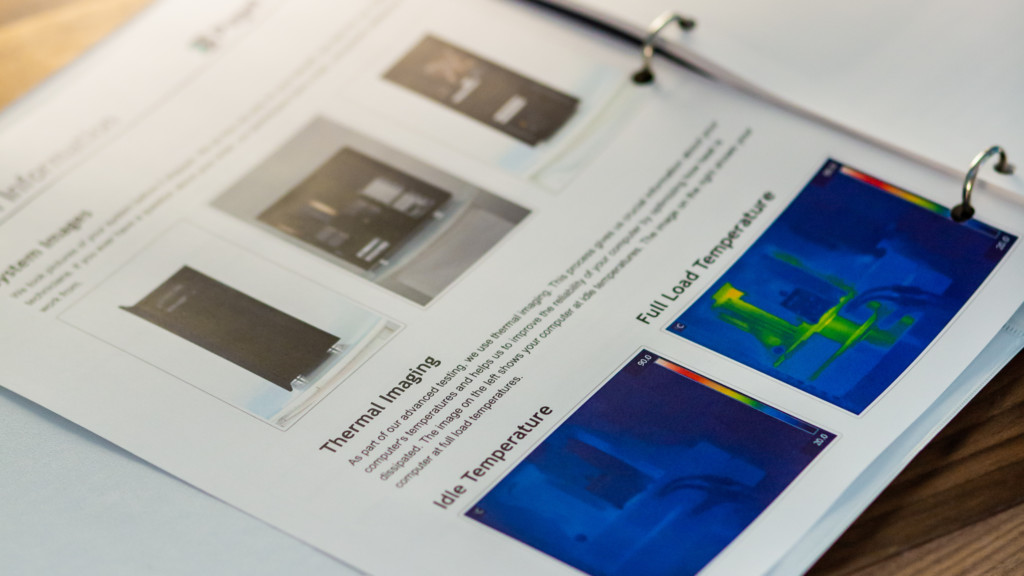 The Extra Mile.
They also included printed benchmark results from all the major tests, as well as frigging thermal images of this system. Let that sink in. They tested THIS COMPUTER, ran a crapload of benchmarks, took thermal images, then packed it all up, printed the results, and sent it to me. Insane!
Soon after setting up the machine (that I lovingly named "Onyx" after the old 90's supercomputers that used to run Flames), I realized I hadn't told Puget that I needed an internal M.2 SSD media drive. Whoops. I quickly reached out to Puget and they immediately put me in touch with Chad Warmenhoven in tech support.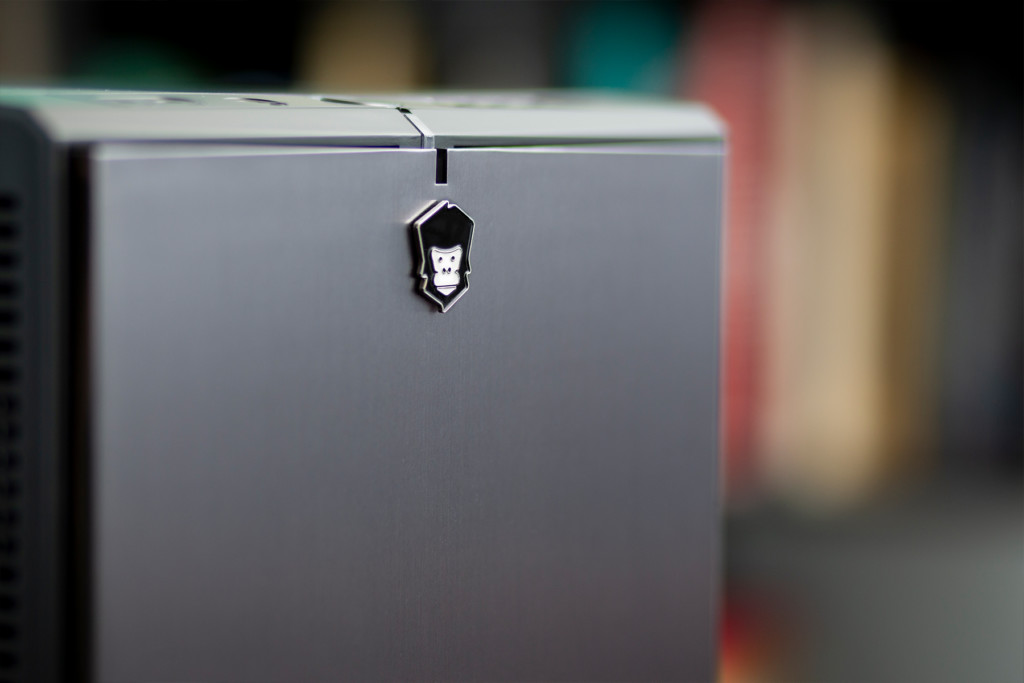 Chad went above and beyond, sending me detailed step-by-step instructions for removing the dual 3090s (they ship with an acrylic custom brace plate). He even went as far as to include photos of my system they had on file and circled areas that would require removal. The process was painless and a day or so later, Chad checked in with me to make sure everything went ok.
In Summary
So here we are now absolutely loving these Puget Systems machines. They are ridiculously fast. Arnold, Octane, and Redshift scream on the dual 3090s. Not to mention, this Threadripper has been amazing with Black Magic Fusion. I'm so glad we went with Puget Systems, and by the looks of it, we'll be going back to them for the foreseeable future.
You can check out Puget Systems here.
In case you were wondering, the price of this system was around $13,000 but typical Puget workstations average around $8,000.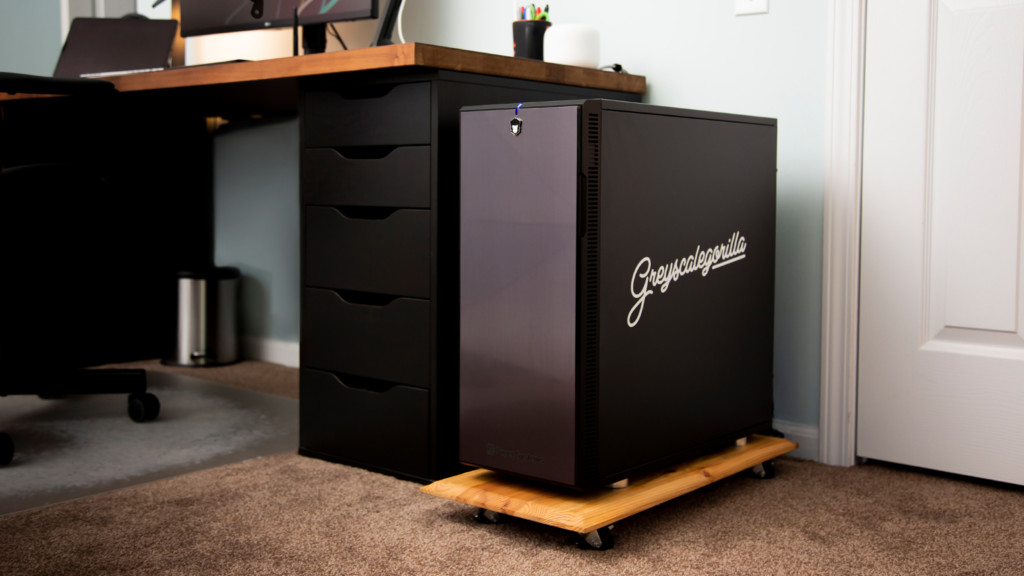 System:

Gigabyte TRX40 AORUS PRO WIFI (Rev. 1.1) Motherboard

AMD Ryzen Threadripper 3990X 2.9GHz 64 Core 280W CPU

128GB (4 x Crucial DDR4-3200 32GB) RAM

2 x NVIDIA GeForce RTX 3090 24GB Founders Edition GPUs

Super Flower LEADEX Platinum 1600W Power Supply

Storage:

Samsung 980 Pro 2TB en4 M.2 SSD (System Drive)

WD Black 4TB M.2 SSD (Media Drive)

Samsung 980 Pro 1TB M.2 SSD (Media Drive)

Cooling:

Noctua NH-U14S TR4-SP3 CPU Cooler

3 x Noctua 140mm NF-A14 PWM Case Fans

Case/Mods:

Fractal Design Define XL R2 Titanium Grey

Metal Case Feet

Greyscalegorilla Vinyl Stickers

Gorilla Head Enamel Pin
Cinebench R23.200: 60330pts
Cinebench R20.060: 23684pts
Octane Bench 2020.1.5: 1410.52
Redshift Bench 3.0.33 (2020.11) Age of Vulture Scene: 85 Seconds