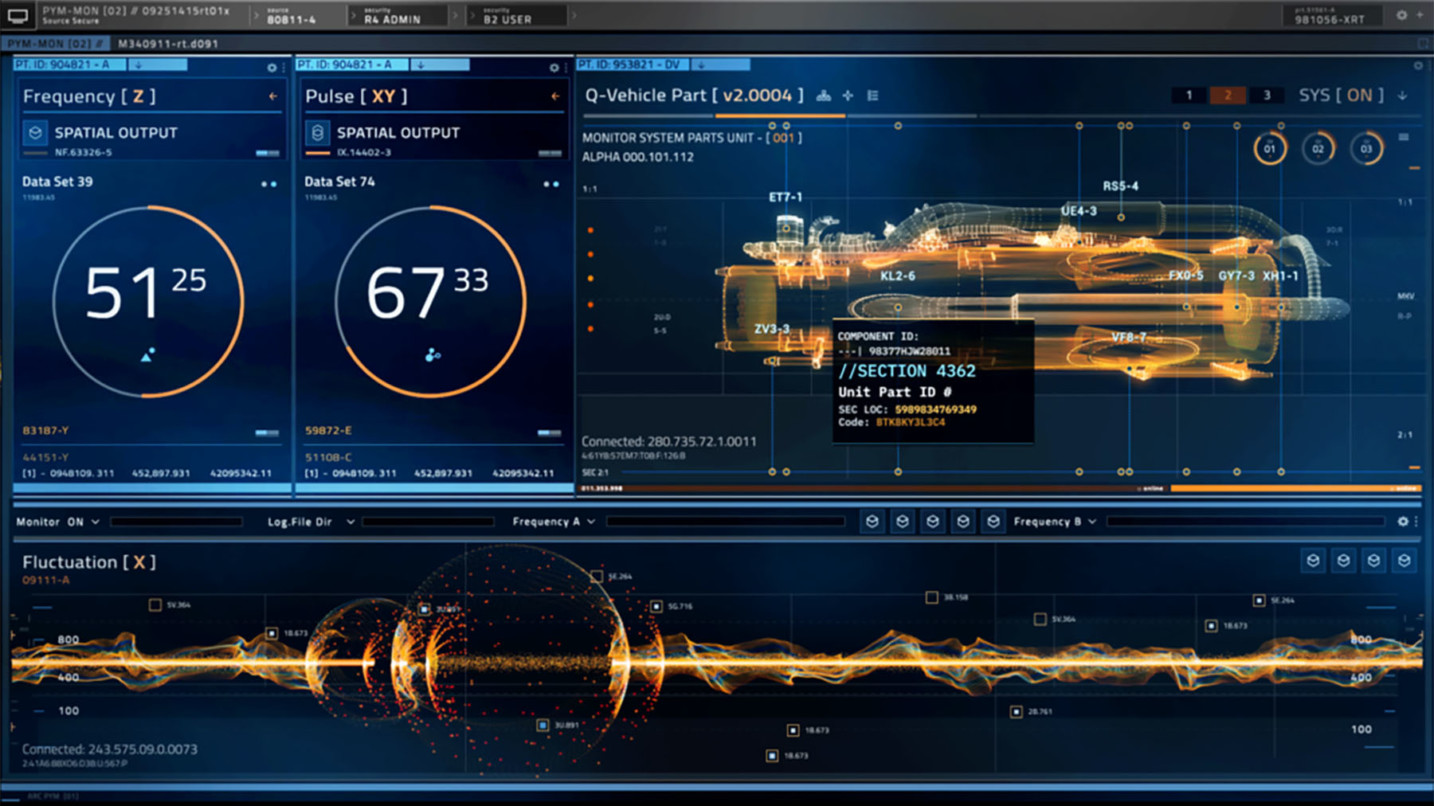 Articles
Creating FUI for the Marvel Cinematic Universe, DC Shows, and More
Fantasy User Interface (FUI) artist Robyn Haddow talks about her experience building functional interfaces for films, television, video games, and more.
Motion graphics artist Robyn Haddow is a dreamer, and as a successful freelancer specializing in creating fantasy user interfaces (FUI), she gets to dream plenty. Ant-Man and the Wasp, Guardians of the Galaxy Vol. 2, Spider-Man: Homecoming, Thor, Transformers, Mile 22, and Bumblebee—those are just a handful of the feature films for which Haddow has designed screen graphics and holograms.
She's also worked on games, including Batman: Arkham Origins and several TV series in the DC Universe as well as televisions shows on networks such as Netflix, FOX, CW, NBC, TNT and CBS.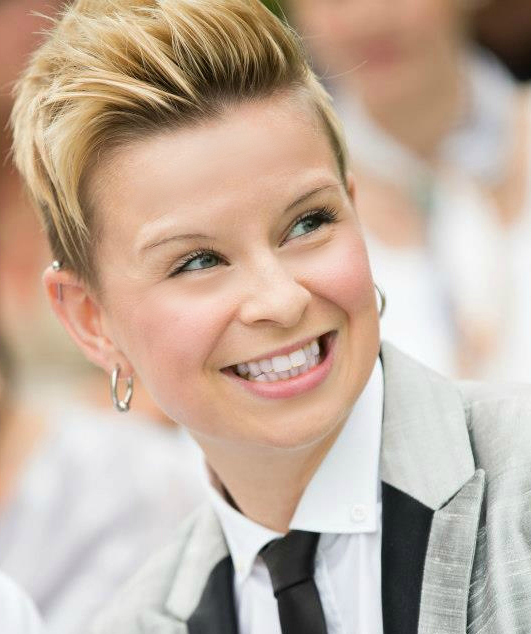 A frequent artist presenter at events like NAB, SIGGRAPH, and Maxon and Adobe artist roadshows, Vancouver-based Haddow is known for her engaging explanations of her creative process, including how she uses Cinema 4D, After Effects and other software in her work.
Here, she goes deeper, offering insight into her passion for creating future tech and Imagineering, some of her favorite projects and how she manages to be so prolific and still be home most nights for dinner with her wife Barbie and three-year-old daughter Lillian.
Interview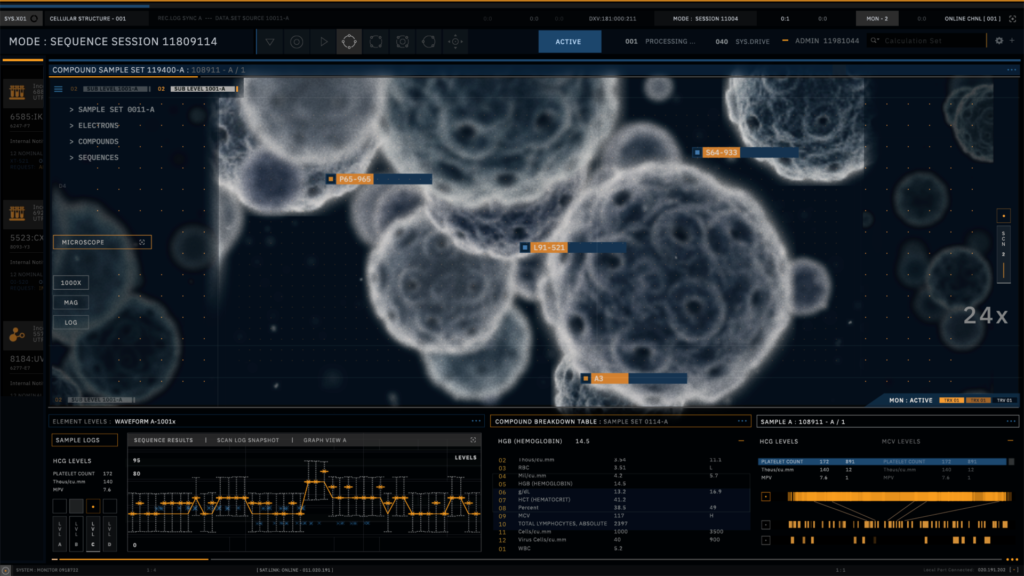 Haddow is known for creating fantasy UI, including this screen for a medical lab in the new thriller series, The Passage. Credit: West Media.
Meleah Maynard: Robyn, your work is increasingly part of many blockbuster films. How did you get to where you are today?
Robyn Haddow: It was an odd path, kind of like a lot of people, nothing is a straight line. I always liked technology, gadgetry, computers, communication devices, space exploration and the planet. In elementary school we did a unit on space and I learned about Roberta Bondar, the first female Canadian astronaut, so I went through a time of wanting to be an astronaut but eventually realized I probably couldn't handle that because I knew the simulations would make me sick to my stomach. I can't handle roller coasters.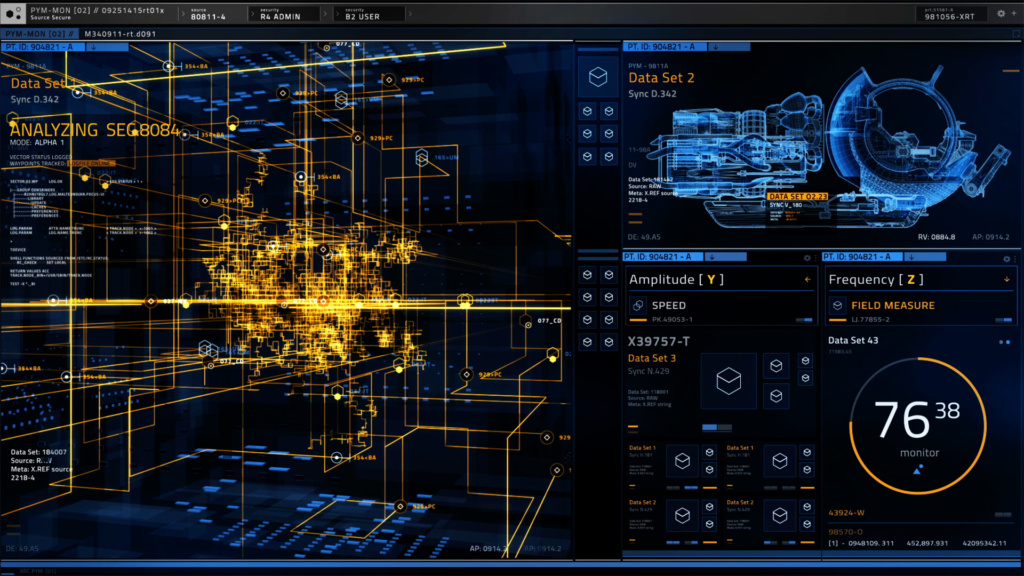 This Spatial Anomaly Matrix Haddow created for Ant Man and the Wasp was one of many loopable playback elements seen on screens in Dr. Hank Pym's lab. Credit: West Media.
I did my undergrad in film studies. I've always been interested in film and theater. I love storytelling and I got into video and video editing early on, so I worked a lot with friends and other people to make little digital videos and enter them into contests. We eventually make a feature that went to one of the local theater houses. It was so fun.
At the time, I was managing a local coffee shop and I knew everyone who came in. It was great, but I knew I needed to get a different job. One night, I went to an open house at Vancouver Film School and a director from Digital Kitchen came up and did a breakdown on the opening titles for the TV show, The Company. I was just totally blown away. It had been a number of years since I'd worked with software, but I was really drawn to the process. So I applied and was accepted into Vancouver Film School's digital design program. The class was small, maybe 10 people, and some of them were so talented and had come from successful studios all over the world.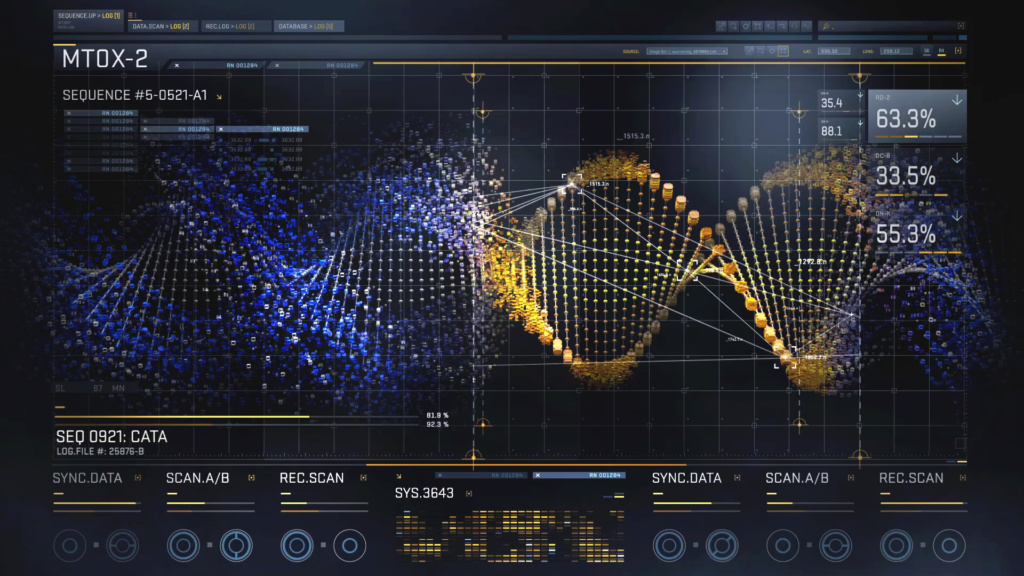 Characters in season 3 of the drama series, The Zoo, use screens created by Haddow to search for answers in a DNA sequence. Credit: West Media.
I had no previous design experience and was completely new to all of the software programs. But I worked so hard to learn the software and catch up. It was a super-intensive 12 months, and it definitely gave me a work ethic. After that, I opened up a boutique studio called Normal with two guys I graduated with. We did really well until the stock market crashed in 2008.
After that, I was offered a job at Goldtooth Creative, a local studio doing AAA video game cinematics and marketing trailers. It was my first time doing UI, and it was for the game Deus Ex: Human Revolution.
By 2011, the gaming industry was changing so I went freelance and worked with Microsoft on early development and idea exploration and prototyping for HoloLens. Soon after that I was contacted to create something new and fresh for the pilot for The Flash.
Opportunities like that, where you have full creative control to build a world where so many story points happen on the characters' technology, are rare. I was with that show for two years and the hours were insane, often 70- to 80-hour weeks. I was also working on Arrow and Legends of Tomorrow. Not long after that I worked on Guardians of the Galaxy Vol. 2 with West Media, and things have just continued from there.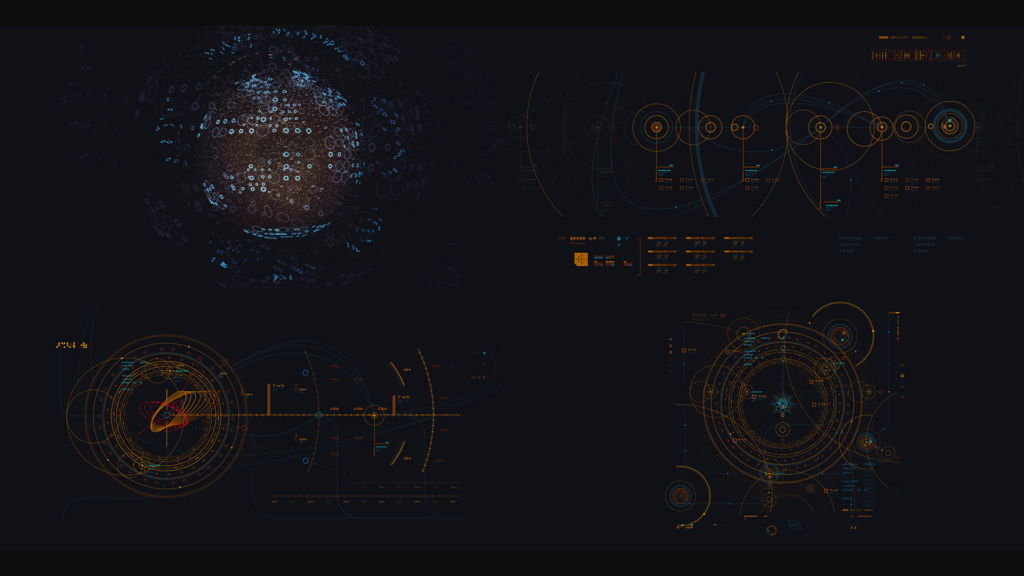 For Guardians of the Galaxy Vol. 2, Haddow created a variety of elements, including these for screens in one of the Ravagers' ships. Credit: West Media.
MM: I've heard you describe yourself as a "dreamer." Can you talk about how that is a part of your work and what your process is like?
RH:  I am naturally a dreamer, and my favorite time is when the canvas is wide open so I can explore and experiment. My favorite part of the process is the concept / R&D phase, or what I like to call throwing paint on the wall and see what sticks.
It's the early days of a project when you can really dig into making some authentic nice elements and build out your UI from there. It's critical to have nice assets to work with when you are designing out many screens. I really enjoy spending time on making layered elements that get combined into a more complex asset with greater detail. Take a dial, for example. A typical meter or dial can be very simple, clean and basic. But if I'm working on something that is more futuristic/sci-fi and fantasy, I really enjoy building complex patterns out of simple shapes and layering them until I've created something beautiful — and then what?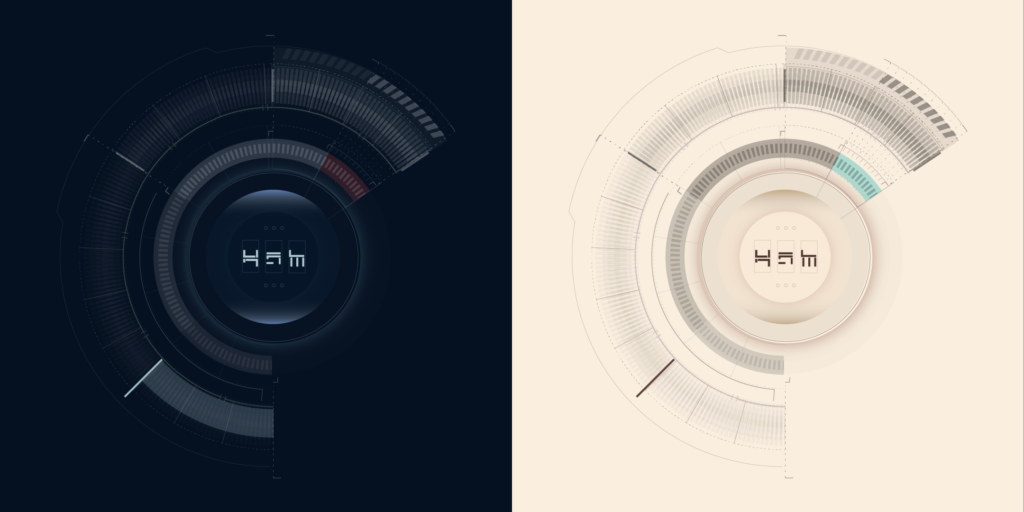 Haddow's concept (dark and light) for a sci-fi dial that powers up some kind of system shows how simple shapes can inspire complex patterns.
The next question is always: Cool, but what does it do? So, next I continue the thought process and delve deeper into how a system or machinery works. It's super cool. And here is where I begin to experiment with movement and color to start to communicate a message, translate a process or display some type of active analysis.
What I love about design is that it is different every time. It is a system of simple shapes layered up in an infinite amount of combinations that ultimately can create unique and beautiful results. This is the beauty of the pre-production time. Before any real story points are getting fleshed out, you're at the beginning of creating a new world. It's the space where new ideas, thoughts and combinations are born.
MM: What was one of your favorite recent projects?
RH: I'm most excited about some of the work I did with the team at West Media for Ant-Man and the Wasp. The project was super fun and probably my favorite to date.
We had a nice amount of time to get into developing the look of the tech in Dr. Hank Pym's lab, which included everything from button panels and code screens to control screens for the quantum gate, diagnostics for the Q-Vehicle, electron microscope analysis, cellular biology screens, surveillance monitoring and circuitry for the underlying fabric of Pym's tech. Some themes I brought into the screens were hexagons, power, circuitry and data particles.
Cinema's MoGraph toolset was my go-to when I started developing assets for some of the screens. I used the opportunity to get into exploring particle systems, generating complex circuitry so I could visualize the tech that shrinks the characters down. I knew X-Particles had a modifier that could generate 3D grids that would do a simulation where particles would draw out in a live 3D movement.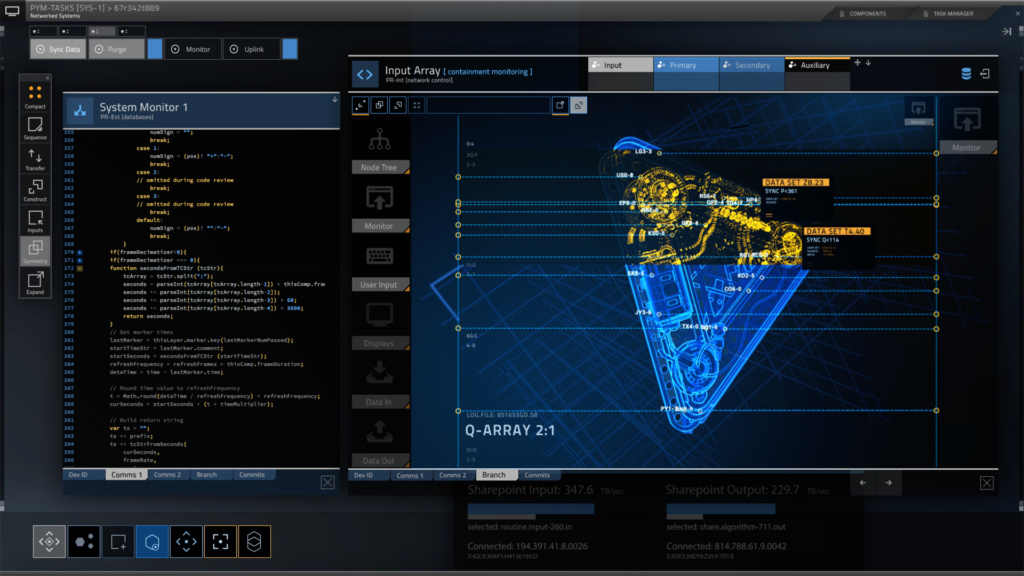 Credit: West Media.
I was doing some controlled experimentation when I thought: 'What if we could just see a slice, as if we were looking through a keyhole at what all the tech and Pym particle activity looks like in the underlying fabric of the characters suit?' I generated several cool-looking 3D grids in Cinema 4D where I cloned nulls onto my generated circuit system, exported my 3D data out of Cinema and seamlessly brought it into After Effects where I designed custom tags and analysis nodes that displayed spatial data and detailed nano tech readouts.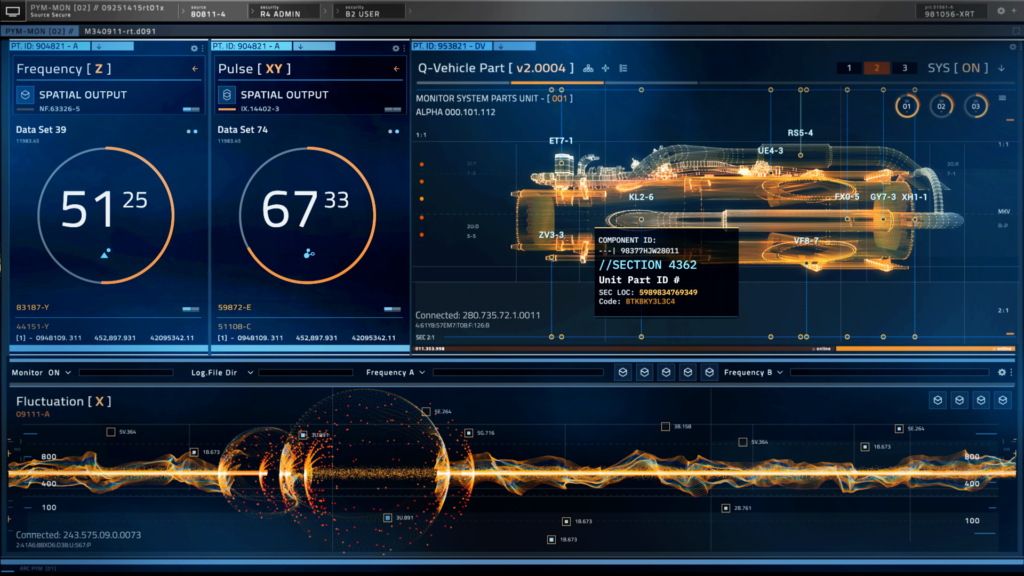 Fantasy user interfaces Haddow created for Ant Man and the Wasp make clear the importance of maintaining a sense of realism when designing future tech. Credit: West Media.
MM: It sounds like you must be busy all the time. How do you balance your work with your home life?
RH: I remember pulling 70- to 80-hour weeks for months at a time. We all did it. But it's not a sustainable pace. I think people are ready for the industry to change the whole 'grind or die' attitude. I have no interest in doing that anymore. I think balance is hard for most people. I try to be more selective about who I work with and stick with good people. Ultimately, projects can get crazy. But its working with good people time and time again that keeps me motivated to keep going. As I have gotten older, I've realized that how I construct my days matters more than project titles and credits. It's tricky but maintaining a healthy balance where I can spend time with Barbie and Lillian is the ultimate goal.
MM: It's easy to burn out in such a fast-paced business. How do you stay inspired?
RH: To stay inspired, I get involved in the community. The motion design community is so welcoming, warm and eager to help. I get a lot out of participating and coming out to various events. I am a huge advocate of Cinema 4D and how awesome the software and surrounding people are. I put a lot of energy and effort into my presentations and I find that I learn so much when I am preparing them.
To be able to demo and talk about what you are doing is a whole other ball game than working. You use a different part of your brain and I find that to speak from an educational perspective about tools and techniques in this way, you really have to know your stuff. Doing presentations and breakdowns of my work has one hundred percent made me a better artist, no doubt. The pressure is on!
I am so inspired by so many other artists out there who push the boundaries and are so engaged with their work. It is so admirable, and even more so when people come out in the community and relate on a face-to-face level to share their own journey and mindset. The artist's path is a windy one, and everyone has such an interesting, unique and incredible story. I love sharing personal experiences with other like minds. It's so much fun.