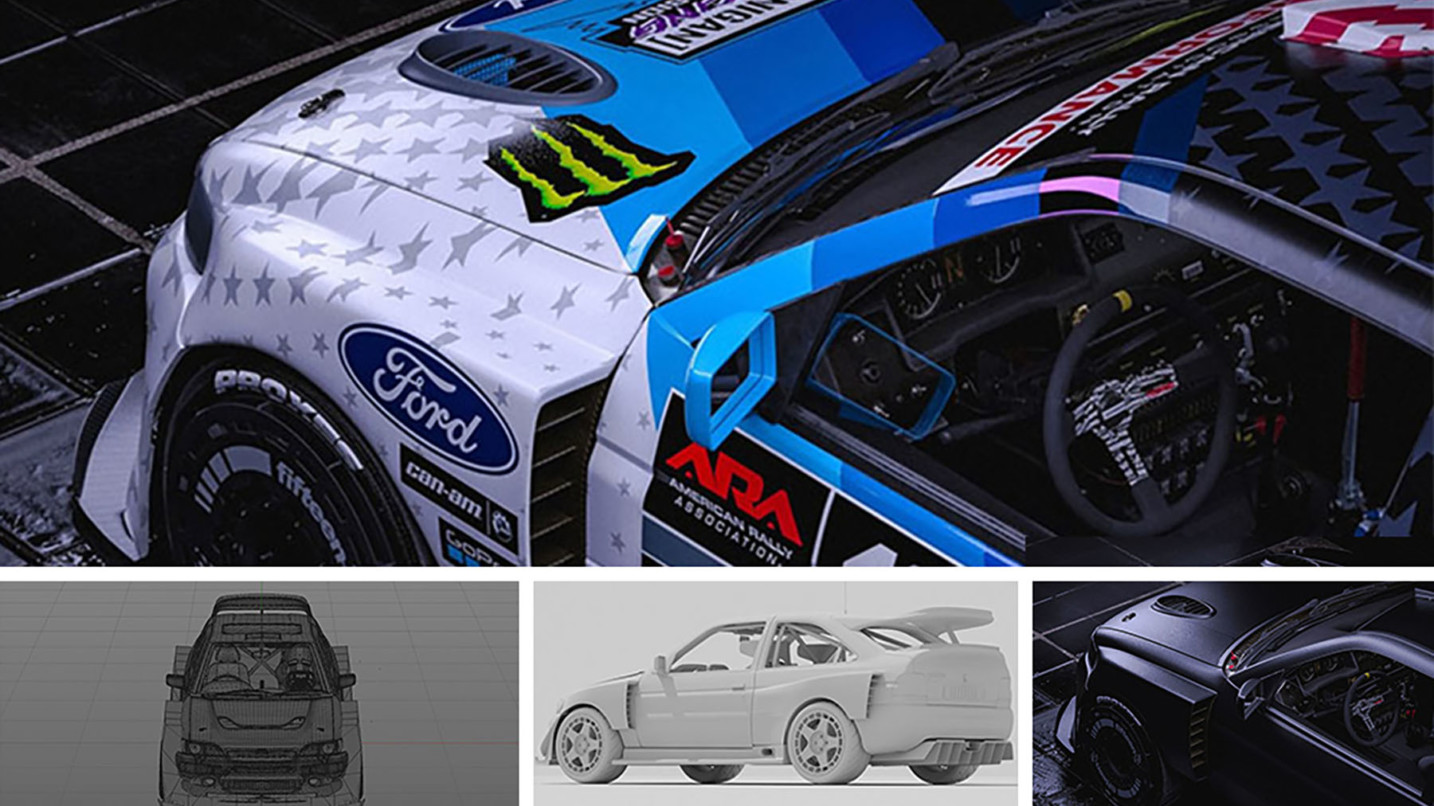 Articles
Interview: Ash Thorp on Designing a Pro Driver's Ford Rally Car in C4D
Go under the hood in this breakdown on using Cinema 4D to design a Cossie V2 rally car for driver Ken Block.
Designer/Director Ash Thorp is well known for the visual effects and prop designs he creates for feature films, like Ghost in the Shell and Assassin's Creed. But he's also really into designing CGI cars, like the '64 Ford Fairlane Z and the Hellion, which are artfully featured along with several others in the Auto section of his website.
Thorp considers car design a hobby, but he admits that he was hoping that professional rally driver Ken Block might one day see his cars and want to work with him. He didn't. But as luck would have it, a friend introduced the two of them and Block did ask Thorp to collaborate on the design of his newest rally car, a '90s Ford Escort Cosworth known as Cossie V2.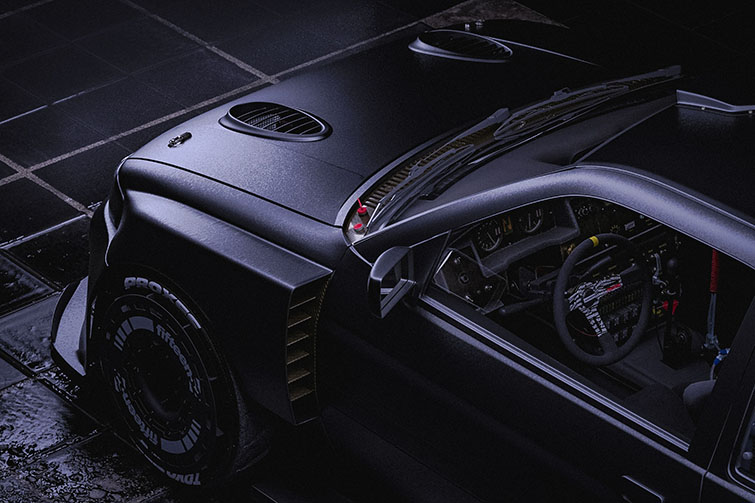 Using Cinema 4D, Octane and Redshift, Thorp spent nearly four months working on and off with Block and others from Block's racing company, Hoonigan.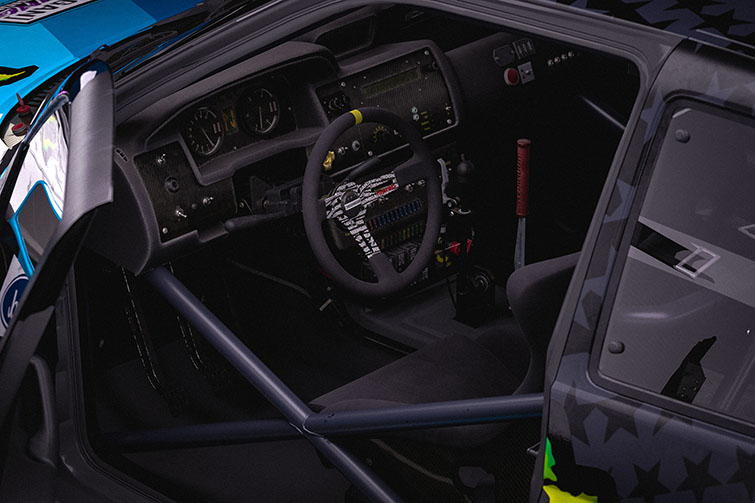 Working closely with 3D designer and animator, Billy Chitkin, Ash Thorp created final 3D renders of the Cossie V2 that included so much detail, some people thought the car was real.
Thorp says getting to work with Block on the Cossie V2 was "a dream come true" for a lot of reasons, particularly the opportunity for something made in CGI to become a drivable rally car. "Our big inspiration was Ken's current car," Thorp explains. "It's extremely aerodynamic and it was really interesting to work on this and know the whole time that whatever we did, the car had to function well because Ken was going to race it."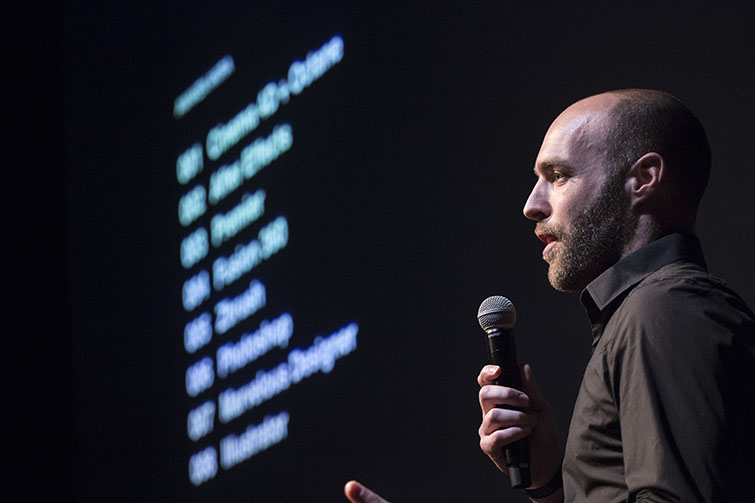 In interviews, podcasts and on stage at events, Thorp frequently shares tips and offers tutorials to artists at every stage in their careers.
Here are his answers to a few more questions about this unusual project.
Meleah Maynard: How did you get into designing cars?
Ash Thorp: I built a lot of Star Wars models and stuff when I was a kid. And then my brother got me into cars when I was a teenager. They're the perfect merger of science, technology, art and form and function. Only now I do everything in CGI so the possibilities are limitless, and I don't have to smell like glue all the time. The Ford Fairlane on my site is one of my favorites. It was also fun turning that old Volvo 240GL into the Volvo Z because I got to flex my imagination making a boring grocery-getting car into the most savage Volvo ever.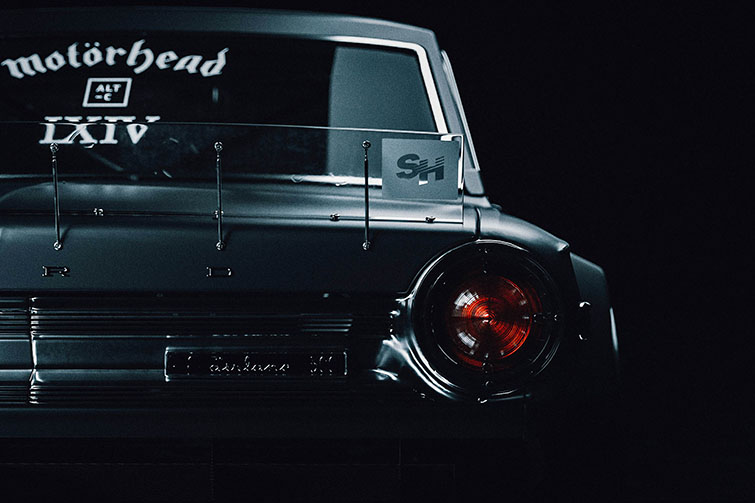 If Thorp owned a Ford Fairlane, it would look like his '64 Fairlane Z.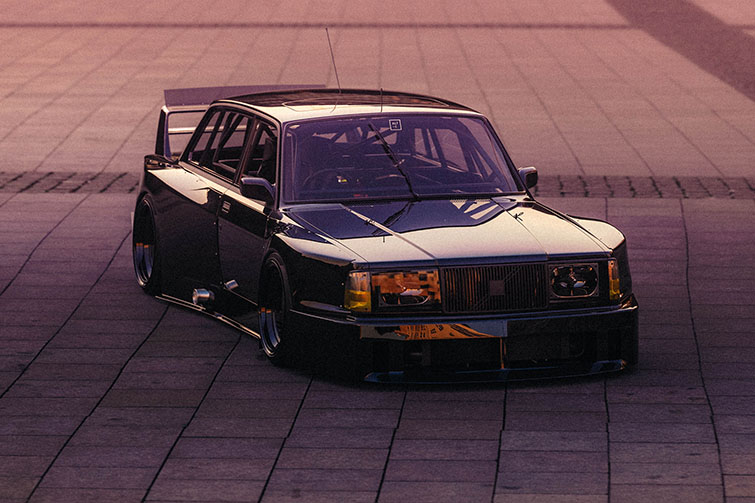 The Volvo Z. Nobody's going to the grocery store in this car.
MM: Describe a little bit about how this collaboration worked?
AT: After Ken and I were introduced, we started emailing about what to do. He said he was thinking of doing something with this old Ford Cosworth, and would I like to do something with the design on that. Of course I said, 'absolutely!' Ken would send me images of the car, and then I would start working in C4D doing what I call the clay renders. They were really rough, just early passes to start.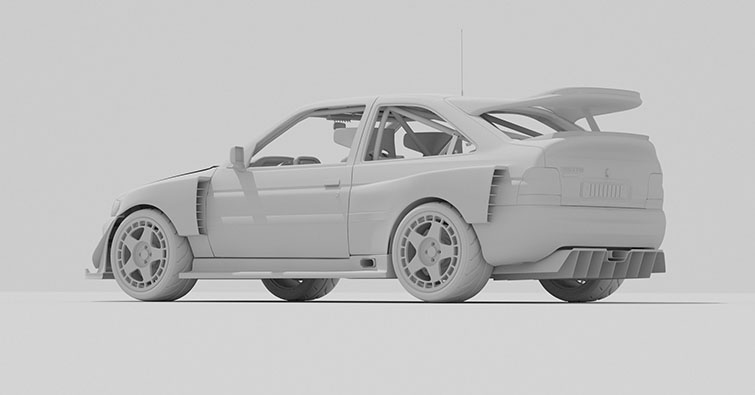 I wanted to show Ken the dimensions and proportions of the car, and I tried to add in a lot of small details starting from the front and moving toward the back. After I got that far, I got really busy with some other projects so I asked my friend Billy Chitkin to help out. I'm not that great of a poly modeler, but he's a great 3D designer and he took my ideas and everything from Ken and really brought things to the next level.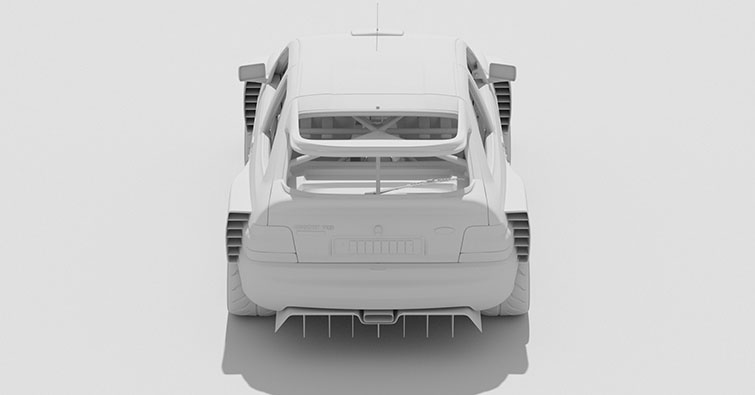 Early in the process, clay renders made in Cinema 4D served as thumbnail sketches for the Cossie V2.
MM: How did knowing this car would be real make you think differently creatively?
AT: I've owned about 20 cars, and I've worked on them all. So I know a lot about cars and how everything needs to be connected. I would get specs from Ken's lead team manager about things like exactly how the wheels and hood scoops had to be. I knew I couldn't get too crazy with adding things to the car. But we were able to break some rules as long as there was a good compromise between aesthetics and function.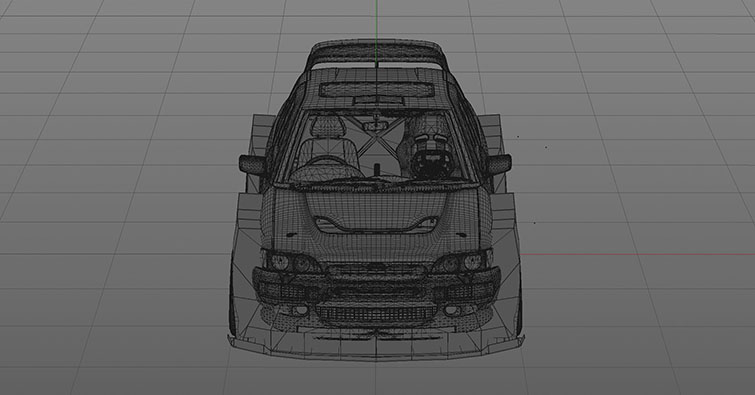 There were a lot of subtle things to think about. We widened the car a little bit, and I made sure the exhaust was far enough back that Ken wouldn't burn himself when he got in and out. We generated a lot of design frames for the team. I love that part of the process because the whole team gets to explore the creative direction.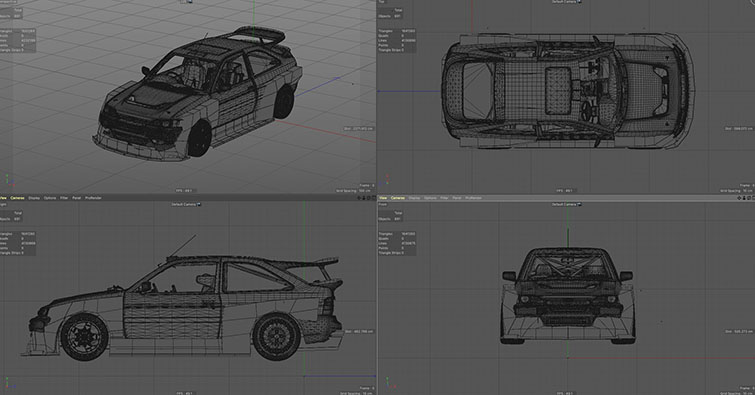 Ken Block is very particular when it comes to cars. In all, Thorp thinks the team did about 16 passes before the final models were approved.
MM: What was the process for doing the paint and sticker design?
AT: That's called a livery, and it was designed by Troy Lee. The various sponsors and advertisers behind Ken's racing team pay to be featured on different spots on the car. I suggested that we see the livery on the car in 3D, so we found a way to do that. It was kind of weird, and I might do it differently if I were doing it again.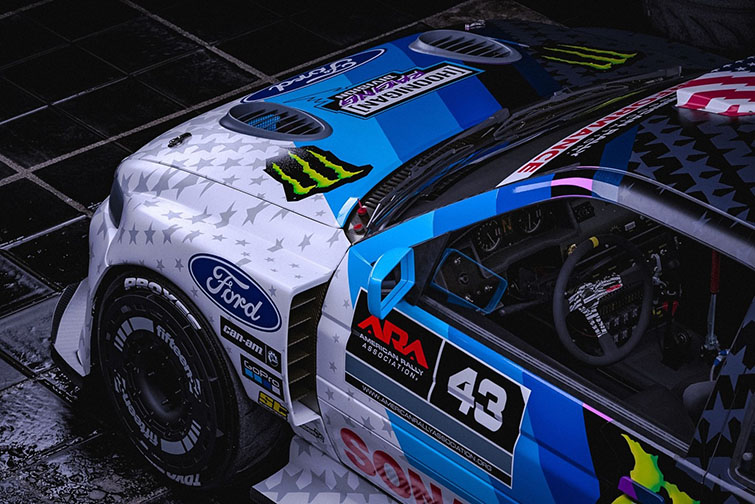 Ken Block knew precisely what he wanted in a rally car. And after many iterations, Thorp and his team created a Cossie that Block loves.
Once the model was done, I rendered it in flat black so we could work on lighting and texturing first. Leo Esteves, who used to be a student of mine and now we collaborate on things together a lot, handled the process of making a UV. It was a really involved job using Cinema and Photoshop to lay out vector assets so they would all align in C4D via UV. It took a lot of time to get it to look perfect. I think there were more than 40 items on the car that had to line up.
MM: What would you say to other artists who would like to work on their dream jobs?
AT: I think the key is to try to manifest things. Don't pigeonhole yourself. And always be learning new things. If I hadn't been so persistent and proactive, this would probably still be a bucket list item for me. But I'd already made lots of cars on my own time, so when I had the chance to talk with Ken, he was like 'this is crazy! Are they real?' So I had already earned his trust. I say, have fun, reach out to your heroes, make things happen and see where that takes you. You can't be afraid to fail.
Credits:
Client: Ken Block and Hoonigan Industries
Designer and CGI Artist: Ash Thorp
CGI Artist and Modeler: Billy Chitkin
CGI Artist: Les Machines
Meleah Maynard is a writer and editor in Minneapolis, Minnesota.